Michigan Poster That Said Lead in Water Was OK Is Quietly Pulled From State Website
by Sam Blum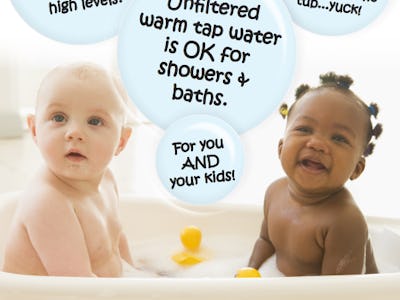 Katharine Johnson/Flickr Creative Commons
Flint, Michigan is in the midst of a water contamination crisis. On January 5, Governor Rick Snyder declared a state of emergency due to a confluence of toxic lead particles intermingling in the city's water supply, and as of Sunday, White House officials said they were monitoring the situation: Chief of Staff Denis McDonough noted that federal authorities are "watching [Flint] very closely" on an episode of Meet the Press.
But still, the problem with the water mains in Flint — a city that lies about an hour outside of Detroit — hadn't sparked quite enough anxiety for Michigan's Department of Health and Human Services.
That's because until last week, the health agency was still sharing this drastically misinformed and insanely dangerous public service announcement:
Meant to allay fears and soothe the worried minds of parents, the PSA basically claims that it's totally OK to bathe an infant in lead-swaddled waters, as long as your baby doesn't drink the water ("YUCK!").
Enter the World Health Organization to summarily dismiss this sorry excuse of a public health endeavor:
"Lead is a cumulative toxicant that affects multiple body systems and is particularly harmful to young children. Childhood lead exposure is estimated to contribute to about 600 000 new cases of children developing intellectual disabilities every year. Lead in the body is distributed to the brain, liver, kidney and bones. It is stored in the teeth and bones, where it accumulates over time. Human exposure is usually assessed through the measurement of lead in blood."
Filmmaker Michael Moore — famously a Flint native and filmmaker of Roger and Me — noted on Sunday that the PSA met a much deserved demise, as it disappeared without word from the state of Michigan's website:
While juxtaposing the cutesy feel of the PSA with its shocking level of misinformation should conjure a few laughs, the situation unfolding in Flint is quite serious. According to a statement from Michigan's Department of Environmental Quality, state police have been supplying residents with "bottled water, water filters, replacement cartridges and water testing kits," while a broarder investigation is being conducted. The Snyder administration has caught some heat for its slow-response to the crisis and has so far not sought any federal disaster relief money.
Flint typically relies on water from Lake Huron, just as Detroit does, but saw its water supply become contaminated while drawing its water from the Flint River between April 2014 and October of last year.