The 5 Best Joker Conspiracy Theories 
The Joker's role in 'Suicide Squad' is being kept under wraps. Let the speculation begin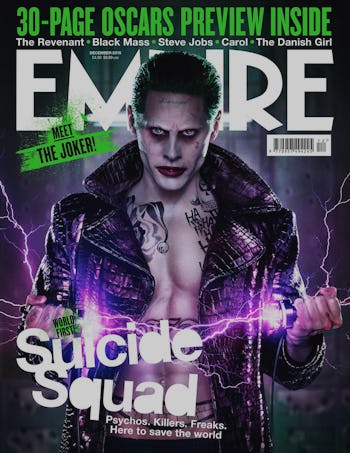 Being batshit insane never goes out of style — that's why the Joker abides as one of the most iconic roles in pop culture. His next incarnation, in this summer's Suicide Squad, will fit Jared Leto with the Clown Prince's manic grin. We know certain details, like the fact that he's got a cool new car, but there's little else to go on about his involvement in the film or even its basic plot. Still, the world is littered with enough scraps that people have put together some tantalizing theories.
1. The Joker Is Robin
By far the most widely perpetuated theory, this hypothesizes that the Joker is Jason Todd, a version of Robin who became corrupted. This theory goes off of this shot in the Batman v Superman trailer, speculating that it indicate the Joker's grudge against Batman is personal.
2. The Joker Is Vin Diesel
Suicide Squad writer and director David Ayer is the same guy that helmed the first entry in the Fast and Furious franchise. Not only does this mean that Suicide Squad's sequel will be 2 Suicide 2 Squad, it also means the Joker has a sweet new ride. What if he has a sweet new ride because the two universes are connected and he's actually Vin Diesel?
3. The Joker Is Actually a Good Guy
One of the most mysterious aspects of the Joker's role in Suicide Squad is the lack of clarification about his place in the squad: He's barely in the trailer and whenever we see group shots, he's not with them. What if that means that in this world, with these nefarious criminals, he's not hardcore enough to qualify?
4. The Joker Is a Juggalo
Jared Leto's Joker has a look that's a world away from Jack Nicholson's gentlemanly gangster or Heath Ledger's magnetic anarchist. With his grille and tattoos, many are speculating that DC's most insane clown is actually part of a larger insane clown posse.
5. The Joker Is Barely in the Film and They're Trolling Us
The Joker only appears in the last few seconds of the trailer. He's not in any photos of the cast in action.
The song in the trailer says "the joke was on me." What if the joke is actually on us and Leto's Joker is going to play a very minor role in the film — a quick cameo that's more of an advertisement for his role in a future DC film?
We'll find out whether any of these theories pan out when the film drops on August 5th.
This sounds ludicrous until you realize Jared Leto could legitimately steal the show in only like 12 minutes of screen time and become the second straight Joker to win an Oscar for the part. Stranger things have happened, and probably will.