British Astronaut Tim Peake Will Make History During Friday's ISS Spacewalk
He'll also do some necessary electrical work.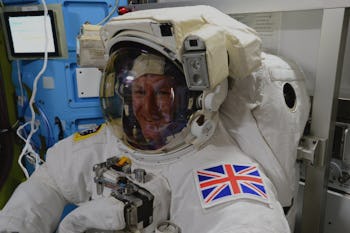 Tim Peake's Facebook page
Back yonder in December, Tim Peake became the first British astronaut (without a private contract) to jet off into space, after decades of reluctance by the UK government to support human spaceflight. In just three days, he'll one-up that distinction as the first and only British astronaut to conduct a spacewalk — the first for 2016.
Peake is currently stationed at the International Space Station (if that wasn't already abundantly obvious). The ISS currently is dealing with a "shunt" power regulator that went kaput in November. No big deal — the spacecraft has seven other power channels purring smoothly. But NASA and its partners would like to bring that last one back from the dead and get it running again.
"Our primary task will be to replace a failed Solar Shunt Unit, which transfers electrical power generated by the solar panels," Peake said. "If the spacewalk is successful, this will restore the International Space Station to 100 per cent of its operational capability."
It's better safe than sorry for the ISS, say its managers:
"From a station perspective, we could live in this state for quite a while," said Kenny Todd, the ISS Mission Operations Integration Manager, during a NASA press conference Tuesday afternoon. "But the reality is that if we were to have an additional failure in another channel, we'd probably find ourselves a little more strapped."
Power will be an especially important factor for the many different commercial ships that will be sent up to the ISS this year (including SpaceX's January 17 launch). "It's probably about time to go get this work behind us," said Kenny.
So they're sending Peake and fellow American astronaut Tim Kopra out on Friday to make repairs and replace a failed voltage regulator to get the power channel on once more. This is going to be Kopra's third spacewalk ever. His second actually took place just about three weeks ago — an unplanned yet successful procedure to repair the Mobile Transporter on the ISS. With Kopra out there, Peake will have a partner who knows his way around the cold vacuum of space.
This particular extravehicular activity (EVA) won't be very difficult. The voltage regulator is pretty easy to replace, and NASA dealt with a very similar problem back in 2014. This is just business as usual. Nevertheless, Peake seems amped for the experience:
It appears as if Peake has been enjoying a pleasant first month in space. Good thing, too — he has five more months before he gets to set foot on Earth again.
You can watch the spacewalk Friday live on NASA Television or through NASA's website. The walk is scheduled to start at 7:55 a.m. Eastern, and last about six-and-a-half hours. We already know you have nothing better to do than watch, but if you still decide you want to amuse yourself in other ways that morning, you can catch up with our coverage of the spacewalk later that day.
Kenny Todd, the ISS operations integration manager, Royce Renfrew, ISS spacewalk flight director, and Paul Dum, lead spacewalk officer.