This Tiny DDR Machine is For Fingers, Not Feet
Relive the classic Japanese rhythm game without your neighbors hating you.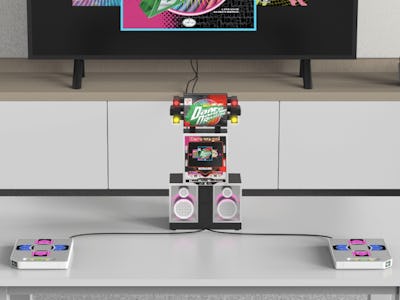 Zuiki
Dance Dance Revolution is a lot of things. It's fun; it's exercise; it's kind of dorky. One thing it is definitely not though is portable — that is, until recently.
A Japanese company, Zuiki, has designed a space-saving solution for the diehards that shrinks the classic machine down to a fifth of its size. Called Dance Dance Revolution Classic Mini, it even lets you play with your hands. Zuiki coincided its announcement of the tiny replica with the 25th anniversary of Dance Dance Revolution, better known as DDR, which still remains a great way to get a dose of nostalgic while working up a sweat.
GOOD!! GREAT!! PERFECT!!
At a fraction of the size, the Dance Dance Revolution Classic Mini doesn't take up too much room on your TV stand and can be easily moved around whenever you want to play. Since it's been shrunk down, the gamepads with the directional buttons are meant to be used with your fingers, instead of your feet like the original machine. Not only does this give you a new way to play the game, it also avoids aggravating your neighbors with high-paced stomping.
If you don't want to button mash and play off the device's five-inch screen, you can attach it to a TV or laptop via its HDMI port. That way, you can plug in a traditional stepmat to play the way the original DDR was meant to be played. Zuiki's tiny version lets you and a friend play as a pair and even has light-up effects like the original machine. You're not going to get all the songs from the entire Dance Dance Revolution catalog, but it will include 24 of the best tracks from three of the franchise's classic titles.
OVERSEA FANS
Zuiki is crowdfunding its Dance Dance Revolution Classic Mini on Kibidango, which is like the Japanese version of Kickstarter or Indiegogo. So far, the campaign has received well past its initial goal of around $200,000, proving that the DDR community is alive and well.
We're not sure if Zuiki will be shipping its portable DDR machine to the U.S., but here's to hoping your fingers can get the dance-centric exercise they deserve soon.