Moment's New Phone Lenses Will Make Your Digital Camera Obsolete
Who needs a real camera anymore?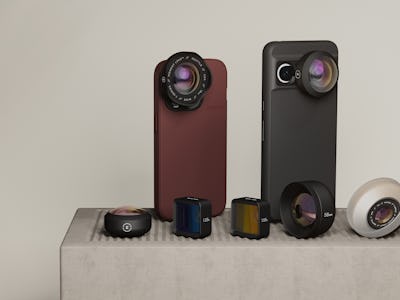 Moment
With most phones now having an ultra-wide and/or telephoto lens, I thought Moment had given up on making its excellent mobile lenses for iPhone and Android, but I was wrong. The creator-focused brand has announced a new "T-Series" collection of lenses to take your smartphone photography and videography to the next level.
Like the old V2 M-series lenses for smartphones, the T-Series comes in different focal lengths. There's the classic 18mm "wide" lens that fits more in a frame, a 14mm for a fisheye-like POV, a 58mm telephoto, a 10x macro, and two tyles of anamorphic lenses (1.55x and 1.33x). You can even attach a filter to the telphoto's threaded mounting ring.
The T-Series lenses are bigger than any screw-on lenses that Moment has ever made for phones. That makes the lenses less portable, but should also mean improved image quality. Moment says the new lenses support larger camera phone sensors and has "25% more glass, another element, and a larger bayonet interface we can support way more phones... even into the future."
I love my mirrorless digital cameras but I also love shooting with smartphones and mobile lenses. Back in 2017, I went to Japan for the very first time and took my trusty Sony A6300 interchangeable lens camera and a few lenses, with plans to capture lots of epic photos. The camera ended up staying in my suitcase almost the entire trip because shooting with the iPhone 8 Plus and Moment lenses was more convenient — and the photos blew me away.
After that, it was all Moment lenses attached to iPhones and Pixels. I covered big events like CES, MWC, iPhone launches, etc. with just my iPhone and Moment lenses. It was so versatile and nobody ever noticed any difference.
But then phones started getting more lenses — an ultra-wide and a telephoto. The camera rings got larger; the image sensors bigger; the glass elements themselves better. And suddenly my V2 Moment lenses no longer fit around them. The T-Series lenses are an attempt to address these changes.
Sure, you don't need a lens on top of the lenses already in most phones, but trust me when I say you'll definitely want one if you're serious about phone photography or videography like I am. Plus, it's still less bulky than carrying around a mirrorless camera or DSLR. I could see a lot of creators using these lenses for TikToks or Instagram Reels. I'm suddenly inspired to create again.
You will need special case to attach the lenses and the glass is on the pricey side, but if they're anything as good as the V2 Moment lenses, they're gonna be worth it. The T-Series Moment lenses are on pre-order right now. They're $129.99 for the 18mm wide, $119.99 for the 14mm fisheye, $149.99 for the 58mm telephoto, $119.99 for the 10x macro, $149.99 for either 1.55x or 1.33x anamorphic lenses. I want them all!
Moment says its M-series Moment lenses aren't disappearing. They're still supporting them for the forseeable future. But if you want to, you can trade them in for credit toward buying a T-Series lens through November 2023.
Get super close with the 10mm macro lens.

Moment
Moment T-Series lenses work on iPhone or Android.

Moment
Which lens do you want to level up your photography or videography?

Moment
A 58mm telephoto lets you zoom in without a loss in image quality.

Moment
A 14mm fisheye fits way more into a frame, but distorts the corners.

Moment