Why a Cheaper Quest 3 Could be Destined for Failure
After the Quest 3 introduced higher-res color passthrough, can we really go back to grainy black-and-white?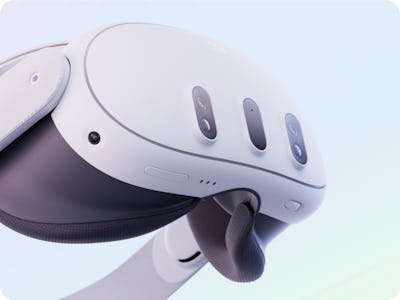 Meta
Even though the Quest 3 just launched last month, we've already seen a ton of interest in its mixed reality capabilities. And just as the XR headset is gaining momentum, we're hearing reports about the next version of the Quest 3 that's expected to be much more affordable.
According to a Wall Street Journal report, Meta signed a deal with China's Tencent Holdings to sell Quest 3 headsets in China to sell a Quest 3 Lite with one major catch — back to black and white passthrough.
GETTING RID OF THE BEST FEATURE
While we're all for making popular devices more affordable, everything comes at a cost.
Meta is planning to use cheaper lenses to get to that price point, according to the WSJ report, meaning a bulkier design that would ironically go against the potential name of Quest 3 Lite. As we saw with Meta's roadmap leak that The Verge reported earlier this year, the company is planning to ship a more "accessible" headset in 2024 that will "pack the biggest punch... at the most attractive price point in the VR consumer market."
On top of that, a Chinese analyst posted leaks that the potential Quest 3 Lite could start as low as $200 and would use only black-and-white passthrough, like the Quest 2.
Making the Quest 3 more accessible sounds great, but the idea of reverting back to the Quest 2's inferior passthrough could mean that this cheaper headset feels like a big compromise. The Quest 3 showed a huge improvement in passthrough capabilities, leading to some impressive demos. Skipping out on this incredible feature would mean losing out on arguably the biggest selling point of the Quest 3.
ONE YEAR LATER...
Tencent is reportedly expected to start selling the more affordable Quest 3 starting in late 2024, which also lines up with the leaked roadmap. Even if Meta is looking to fill a completely different role with the Quest 3 Lite, the lack of functional passthrough could make this affordable alternative forgettable.
And with rumors that Meta is expecting to drastically reduce production of its Quest 3... Well, this might not be the year Meta finally makes it big on VR headsets.