How Apple Could Capitalize on Google's Chatbot Woes
Apple is not one to jump on fads and has largely left Siri on the wayside, but Google's struggles with Bard present an opportunity.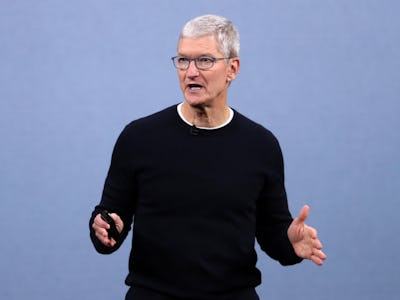 Justin Sullivan/Getty Images News/Getty Images
During Apple's second-quarter earnings call, Tim Cook described AI as "clearly, very interesting" and an area the company has made "enormous progress" in. Siri hasn't exactly wowed the world with its capabilities — there's still the multiple timers issue, for one — but it seems that with the right approach, the company does have an opportunity.
Google reportedly declared a "code red" when it learned what Microsoft planned to do with its Bing chatbot. The first result of its counter-offensive was Bard, a chat interface that largely hasn't stood up to Bing and ChatGPT's overzealous answers. Apple's not an AI research powerhouse, but its caution could pay off in comparison to competitors that have abandoned it, and to appease its own employees, the company might have to do more with AI anyway.
The basics are there
As Cook noted in his comments on the call, Apple already implements machine learning and artificial intelligence across various features in its operating systems. "You can see that in fall detection, crash detection, and ECG," Cook said. Siri might seem the closest to the generative AIs that are in vogue now, but there are lots of ways the AI field can benefit the company and its products.
"We view AI as huge and will continue weaving it through our products," Cook says. Still, there's unrest among Apple's own employees over how that should play out. The Information reported in April that Apple lost members of the Siri team to Google because of its conservative approach to AI. The New York Times wrote in March that the company's ability to add new capabilities to Siri at one point required "rebuilding the [assistant's] database, which could take up to six weeks" every time a new command was added.
There's a desire to push the bounds of Siri and do more than the predictive features watchOS and iOS currently offer. Apple's reluctance to chase every fad is part of its company culture, but if employees want it and there's a way to do it carefully, the company might move in a way it hasn't before.
And Google's struggling
It's premature to say Google's lost its way, considering we still don't know exactly what it could have in store for Google I/O 2023, but as a company similarly positioned to Apple in terms of its large audience, mobile operating system, and well-known voice assistant, its issues are Apple's gain.
There are inherent risks to Google pushing ahead with Bard, changing up Google search, and leaning into generative AI. Millions of people rely on its platforms to disseminate and find information and, more critically, to sell advertising. Misinformation is never going to go over well, but especially not from Google.
Apple could start playing in the same spaces, improving Siri's functionality with support from a large language model and broadening what iOS can do, cautiously, in the ways Google intended to do with Android and Google Search. That approach, assuming the company is willing to try it, could produce a healthier result overall.