Exclusive: Stern's Next Pinball Machine is an Ode to Foo Fighters
A hot band and a new designer give Stern's latest an unusually fresh feel.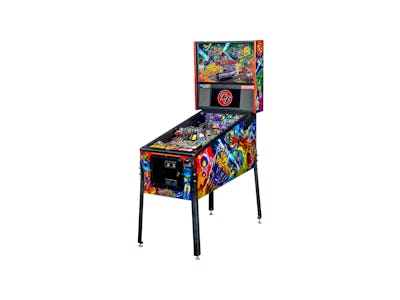 Stern Pinball
Pinball is riding a wave of popularity, a phoenix-like resurgence that's seen Stern Pinball, the largest and oldest pinball manufacturer in the world, having to relocate to a bigger HQ to keep up with demand. Stern is well-known for producing a series of music-themed pinball tables over the years, but unless you have a thing for classic rock you might have been left cold by the company's recent efforts honoring Led Zeppelin, Rush, and Iron Maiden.
Stern's next table will get a little more modern — relatively, anyway. This time it's Foo Fighters, and not only is it Stern's most modern take on rock and roll yet, it's the first Stern table from designer Jack Danger, aka DeadFlip.
This then, you might say, is the beginning of a new generation of pinball for Stern.
"DAVE GROHL IS EVERYWHERE"
Why Foo Fighters and why now? "Foo Fighters is a very relevant band right now," Danger told Inverse in an exclusive interview. "Dave Grohl is everywhere." And he popped up in a Super Bowl commercial this year. He's also been inducted into the Rock & Roll Hall of Fame not once but twice: first in 2014 for Nirvana, then again in 2021 as a part of Foo Fighters.
Danger also praised the band's humor and style in their music videos. "That translates very well into a pinball game," he said. "They love pinball so they brought a lot of excitement and creativity to the project. "
RETRO FRESH
This machine is the result of that project, which circles around a made-up '80s-style cartoon series called "Foo Fighters Saturday Morning Action Time!" How exactly that factors into the gameplay remains to be seen, but clips will play on the pinball machine's integrated 15.6-inch LCD.
Yes, full-motion video is a part of the game. So too is RGB LED lighting for the inserts, with extra lights above the playfield if you spring for the top-shelf limited edition model. There's also stereo sound and even internet connectivity through Stern's Insider Connected platform, which provides Xbox Live-like achievements and the ability to compare your high scores with your friends. This, then, is a fully modern pinball machine.
FLOW AND FEEL
More important than the tech is how a game plays, and Danger told us that this will be unlike any machine that's come before. "I wanted the ball to go every which way it possibly could. I took into very careful consideration how balls deflect off of targets. I pulled in some inspiration from designers that I loved," Danger said. One of those designers is Dan Langlois, responsible for a number of distinctive tables in the '80s and early '90s, including Heavy Metal Meltdown, one of Danger's favorites.
Danger told us he pulled out all the stops for this, his first full design for Stern: "You're traditionally not supposed to do crossover shots and I put three of them in this game. No one told me no." He's also included what might be his signature design element, the Deadpost: a little pop-up post sitting below the left flipper that, if you're paying attention, could save the ball from an outlane drain.
There's a second, elevated playfield in the upper-left, called Area 51, which has its own little flipper. "A big complaint a lot of people have around upper playfields is that you can spend too much time up there," Danger said. "So I wanted to make this hard and fast but accessible." There are two loops up there, an inner and outer. Hit them enough times, Danger said, and you'll trigger the Area 51 multiball.
Danger also said that different gameplay modes will see you virtually traveling between different cities, and that each city will have its own song. There are 15 Foo Fighters songs in the game in all:
All My Life
Best of You
Breakout
Everlong
Holding Poison
I'll Stick Around
Learn to Fly
Monkey Wrench
My Hero
Run
Something from Nothing
The Pretender
This is a Call
Times Like These
Walk
Eight of the songs are reserved for the player to start playing when they launch the game, "just as something you want to jam out to," Danger said. You'll be jamming through stereo speakers, powered by a three-channel amp.
TEAM EFFORT
This may be Danger's first pinball table design for Stern, but he was supported by a team of veterans, including programmer Tanio Klyce, who's worked on numerous recent Stern games like The Mandalorian and Deadpool, and artist Zombie Yeti, who did the stunning artwork on tables like Teenage Mutant Ninja Turtles and Godzilla.
As is the norm for Stern releases, Foo Fighters machines will ship in three different versions. The Pro table is the entry-level and costs $6,999. Premium is the next step up, adding on that second playfield plus sculpted toys for the Foo Fighters van and the giant Overlord lurking in the back-right. That costs $9,699. Then there's the top-shelf Limited Edition, with niceties like powder-coated legs and Stern's "Expression Lighting System," the RGB LEDs that change with the music. That edition costs a whopping $12,999 — if you can find one. They'll only make 1,000.
"Overall, I feel like we created an original IP and original story. The Foo Fighters music ties it all together and brings it to life," Danger said. Watching gameplay videos of the new table, it's hard to argue. The game looks like it has a fast, fun, yet chaotic flow, something unlike anything we've seen before. But, since you never can tell just how well a table plays until you pull that shooter yourself, we'll have to withhold judgment for now.