Bose's New Headphones Bring Spatial Audio to Everything You Listen To
We don't know how it stacks up to Apple's spatial audio, but it works with any content..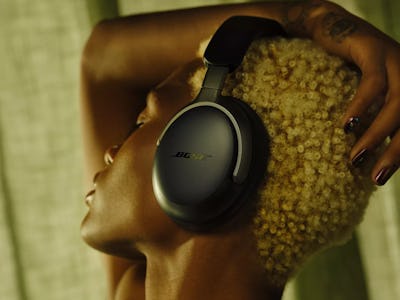 Bose
There's a new spatial audio option on the market and this time you won't need Atmos to take advantage. Bose updated its QuietComfort lineup of headphones with three options: the QuietComfort Ultra Headphones, the QuietComfort Ultra Earbuds, and the QuietComfort Headphones. Two of those options introduce Bose's Ultra branding, which earns the name thanks to a new Immersive Audio feature.
For Bose, Immersive Audio is its take on Apple's spatial audio, which adds 3D depth to compatible content. Instead of relying on a fine-tuned mixing and mastering process that creates specialized 3D audio (i.e. Apple's and Dolby's approach), Bose's technique replicates the same idea virtually. sans engineer. How that virtual product stacks up to spatial audio created by a trained Dobly Atmos engineer remains to be heard, but we're excited to put it to the test.
FULL AUDIO IMMERSION
Bose says the Immersive Audio feature is done through an onboard IMU and proprietary software. Like spatial audio, Immersive Audio adds depth to audio by making it feel three-dimensional and layered. Bose's Immersive Audio can be programmed for Still or Motion modes, so the function will still work whether you're moving around or not.
Besides Immersive Audio, Bose updated its headphones with better noise cancellation, improved voice pickup with phone calls or activating voice assistants, and better battery life. The QuietComfort Ultra Headphones now get 24 hours of battery life, but only 18 hours if you're using Immersive Audio. The earbud version gets six hours of battery life, which drops to four hours with Immersive Audio. If you don't care about Bose's new tech, you can opt for the QuietComfort Headphones that replace the popular QuietComfort 45 with an improved design that comes with 24 hours of battery life.
CHEAPER THAN AIRPODS MAX
The non-Ultra QuietComfort headphones will be released first on September 21, going for $349. It'll be available in black, white, and a limited-edition green colorway. The QuietComfort Ultra Earbuds will start at $299, while the QuietComfort Ultra Headphones will go for $429. Both of the Ultra headphones will be available in black and white, beginning in early October. You can preorder any of Bose's refreshed headphones on its website now.