BMW's Luxurious i7 EV Is a Tech Lover's Paradise
With oodles of power and a luxurious poise, plus jaw-dropping 8K theater screen, the i7 is a showcase for what's possible on four wheels.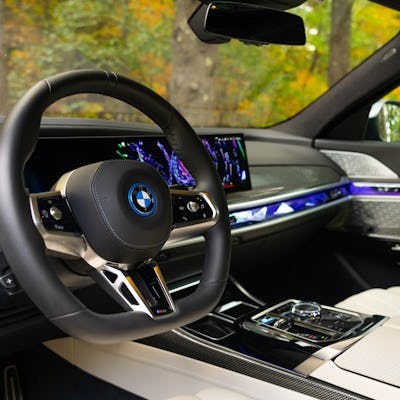 Photograph by Tim Stevens
As I write this I'm sitting in the back seat of the BMW i7 xDrive60.
The in-seat massager is doing its thing to my things; the 1,965-watt, 39-speaker Bowers & Wilkins sound system is playing some ambient tunes with a lovely tone; and, was I not trying to be productive, I could summon a 31-inch, ultra-widescreen 8K display down from the ceiling upon which I could be watching any number of things through the integrated Amazon Fire TV functionality.
It's a sublime place to work. And, given this thing offers 536 horsepower through all four wheels, will accelerate to 60 mph in 4.5 seconds, and seats four in remarkable comfort, it's a pretty great car, too. There's even a hint of fragrance in the air as the sun shines through the panoramic glass roof, and I can't help thinking this space is better than any room in my house. Of course, at an as-configured price of $156,595, it's worth more than any single room in my house, too. But with a stout technology package and all the creature comforts you could ever want, it's not hard to think that maybe it's worth it.
ELECTRIFIED
The i7 is BMW's electric take on its 7 Series. The 7 has, since the 1970s, been BMW's largest, most luxurious sedan. The little "i" on the front that signifies this is electric. If it weren't for that tiny vowel, you'd hardly be able to tell the difference.
Even peeking under the hood of the i7 you'd be forgiven for thinking this is a combustion car. The giant black shroud there makes it look like the i7 has an engine of the gas-burning variety. Frunk fans, I'm sorry to say this isn't your EV.
The exterior is just as dark as under the hood, coated as it is in a satin black paint called Frozen Deep Grey. A head-turner it ain't, but damn if it doesn't result in a menacing-looking machine. And, if you're not a fan of the somewhat over-styled front end here, the black helps to hide it.
EYE-OPENING INTERIOR
If the exterior is moody, the interior is avante-garde. The Smoke White Merino leather pairs beautifully with the numerous loud, even garish styling cues. Check out those bright metal speaker grilles that sweep across the doors or the crystalline controls for the rotary iDrive dial. Even the seat controls look like diamonds set into the door cards.
The most striking design feature, though, is the ambient lighting that spans the dashboard. Multicolor LEDs sit behind multifaceted, clear plastic, extending the bejeweled look of the cabin. These displays change color and pattern depending on drive mode or upon your command, creating an interior that is as loud or sedate as you want.
Even the touchscreen has some drama to it. Perched high above the dash and curving gently, it's an integrated unit combining both the gauge cluster behind the steering wheel and the central touchscreen. BMW's latest infotainment system, iDrive 8, is a little icon-heavy at times, but it's snappy and intuitive and offers the obligatory support for wireless Android Auto and Apple CarPlay.
But, the built-in software experience is so good that you may not be so quick to connect your phone as in other cars. Voice recognition is fast and accurate, not only for things like navigation destinations but also for changing in-car features.
Navigation itself is excellent, and the augmented reality prompts, which project arrows on the gauge cluster over footage from the road ahead to show you exactly where to turn, make it incredibly hard to get yourself lost. That's a very good thing, especially when you're trying to escape from New York during rush hour.
Massive Theater
The show gets even more bombastic in the rear seats. Back there, built into each door where you'd typically find a handle, is instead a petite touch display through which either rear passenger can change everything from climate controls to seat massage, even pushing the front seat away to make room to fold the rear seat into a delightful lounge.
The piece de resistance, though, is that Theater Screen that swings down from the ceiling at the touch of a button. At 31 inches across, it's smaller than many home displays, but given it sits barely a foot from your face, the effect is striking. It's a touchscreen, and pulling up media is easy enough, either through the integrated Fire TV or an HDMI port hidden on the back.
The only catch is that this cannot stream over Wi-Fi. It has to rely on the car's integrated data connection, which, if you're talking 8K content, could burn through your data allocation mighty quickly. Better to use that HDMI port on the back, then.
The experience of watching content in the backseat is interesting. There's an oddly intimate feeling with whatever you're watching thanks to the proximity of the screen and the speakers. It really is like an ultra-high-def rolling cocoon. The only slight drag is that the screen is so wide that even when you're watching widescreen content the outer thirds of the display show nothing at all.
I'm prattling on a lot about the interior of the i7 because it is, quite simply, an incredible space. The styling will be too much for many, while the price of entry will rule out many more (myself most certainly included). Still, it is a remarkable expression of what's possible when the best of modern consumer electronics meets up with some killer automotive engineering.
THE DRIVE
So how does the i7 actually drive, then? Its poise and on-road character match the ultra-plush seats and cocoon-like silence inside the cabin. With its adaptive suspension on Comfort mode and the powertrain on Efficiency mode, the i7 accelerates strongly but calmly and seems to float over every road imperfection.
That's a difficult feeling to deliver on a car with 21-inch wheels and tires, which don't leave a lot of rubber to compress and absorb the worst the road has to offer. The suspension has to do a lot of hard work and does it well.
Given that the suspension is adaptive, it can be firmed up for a more sporty ride, something that requires just a tap of the "My Modes" button just aft of the crystalline iDrive knob. Going for Sport results in an immediately firmer reaction from the road and, more noticeably, a far sharper reaction from the accelerator.
In Sport, you can immediately feel that this thing has 536 horsepower, more than a new Corvette Stingray. The i7 won't accelerate as quickly as the 'Vette, it weighs just shy of 6,000 pounds after all, but it jumps forward with that instantaneous, electric reaction, and a 0 to 60 time of 4.5 seconds is more than respectable. It'll startle and impress even the most jaded passengers.
That is the power of the xDrive60 flavor of the i7, but if it were me writing the check I'd stick with the cheaper, rear-drive eDrive50 version. It still has 449 horsepower, still has the lightning throttle response, and should still spook your onboard fam with a twitch of the accelerator if you want to.
It even goes farther on a charge, too. The i7 xDrive60 you see here on 21-inch wheels is rated for 308 miles per the EPA. Go with the eDrive50 on 19-inch wheels, and you can go up to 321 miles on a charge from the battery pack, which has a usable size of over 100 kWh. In my testing, which included a fair bit of hard acceleration, I saw an average efficiency of 2.7 miles per kWh, which would mean about 270 miles on a charge. But, driven with a little more restraint, beating those EPA numbers should be no problem.
And the car honestly is at its best when driven frugally, when it's lulling folks to sleep or wowing them with the overwhelming rear-seat experience.
THE DAMAGE
That experience doesn't come cheap. As mentioned above, the final sticker price for this car is $156,595. That includes a $995 destination charge. But, this was a 2023 model. 2024 i7 prices have increased by roughly $5,000.
You can get into a 2024 i7 xDrive60 for a starting price of $124,200, but this one had all the desirable luxury options, like the $6,550 Executive Package, which brings automatic doors and front massaging seats, and the $7,250 Rear Executive Lounge Seating plus the $600 Luxury Rear Seating package, which adds on all the rear massaging seats and the Theater Screen.
The Frozen Deep Gray paint is $5,000, and the Bowers & Wilkins sound system is another $4,800. Each one of those options is painfully expensive, but if you start with the cheaper, rear-drive i7 eDrive50 you can save almost $20k to start, which makes it easier to indulgently tick a few more boxes for that Theater Screen or the Bowers & Wilkins sound.
Regardless of which trim you go for, you'll want to add the $2,100 Driving Assistance Professional system. The i7 is, by default, a very safe car, featuring things like automatic emergency braking with pedestrian detection. But, by adding on Driving Assistance Pro, you take it to another level. On most divided highways, the i7 will let you take your hands off the wheel, steering itself and adjusting speed based on traffic.
It won't initiate lane changes yet, making it less advanced than something like Chevrolet's Super Cruise or Ford's BlueCruise. But, one tap of the turn stalk and the car will automatically overtake slower traffic and safely merge. It's just one more thing that makes this an ultra-calm environment.
The i7, in this configuration, is one of those cars where it's as good to be driven in as it is to drive. Most of us will never have the opportunity to be chauffeured on a regular basis, so it's hard to say that this car should be on your list the next time you need a new car.
That said, the BMW i7 exists as something of a showcase of technologies, a halo car for the next generation. We may not be able to afford to pick up what BMW is throwing down here, but some of the hallmarks of this car should trickle down to more attainable machines coming soon.
If nothing else, it's another sign that a switch to electrification does not mean a diminution of personality.
Photography by Tim Stevens