Weird, Clever Things for Your Bathroom & Kitchen That Are Getting Wildly Popular on Amazon
Make these highly-used spaces more functional than ever before.
Written by Allison Bolt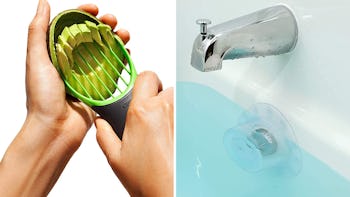 Amazon
We may receive a portion of sales if you purchase a product through a link in this article.
Sometimes you need a quirky (but super helpful) solution for those overfilled kitchen cabinets or a practical fix to a problem in your bathroom you didn't even know you had — and that's exactly where these popular things on Amazon come in. They might seem a bit weird at first, but they're all so clever that you'll immediately wonder how you've been existing in your home every day without them.
Of course, these clever fixes are getting wildly popular, so it's a good idea to start scrolling and shopping ASAP.