50 Weird, Cheap Things That Are So Clever, You'll Wish They Were Invented Sooner
Weird, yet clever products you'll want ASAP.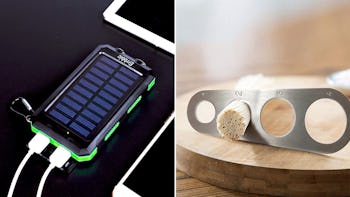 Amazon
We may receive a portion of sales if you purchase a product through a link in this article.
Sometimes, while shopping, you'll come across items that you've never heard of before. Oftentimes, they're the unique things you would've definitely added to your cart months ago. If you're wondering what kind of products I'm talking about, I've put together this list of weird, cheap items that are so clever you'll wish they were invented sooner.
From collapsible camping lanterns to wireless chargers, you're basically guaranteed to use each item below multiple times throughout your day. And since I've only selected affordable items to feature, you can go ahead and grab more than a few things without breaking the bank. But if you want to see more? Then you'll just have to keep scrolling.