You Need to See the Strawberry Moon in the Sky This Weekend
The June 2023 Full Moon is almost here.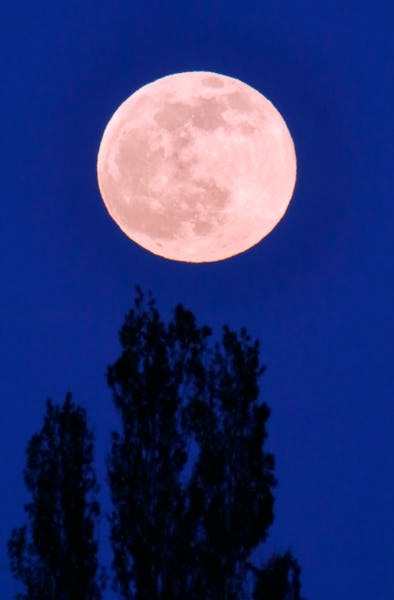 Christophe Lehenaff/Moment/Getty Images
The last Full Moon of spring is almost here, and it's the festively-named Strawberry Moon.
The June 2023 Full Moon will appear this weekend, marking the final days of spring and hinting at the start of summer: a time of ripe fruit, growing crops, and warm-weather skywatching. Here's everything you need to know about the June 2023 Strawberry Moon.
Is the Strawberry Moon Red?
For thousands of years, people around the world have used the monthly appearance of the bright Full Moon to mark the passing of the seasons and time the annual rounds of hunting, planting, and harvesting.
Many Indigenous groups in North America connect the Full Moon of late spring or early summer with the ripening of tasty wild berries. The Algonquin, Chippewa, Dakota, Lakota, Ojibwe, and Oneida peoples all call this month's full Moon the "Strawberry Moon," a reminder that wild strawberries are ready to pick across most of what's now the United States. In the southeastern U.S., the Muscogee Creek call this month's full Moon the Blackberry Moon, while the Shawnee of what's now Ohio and Pennsylvania call it the Raspberry Moon.
So no, the Strawberry Moon isn't red or pink. If you want to see the Moon turn eerie colors, your best bet is to catch it low in the sky, when the atmosphere scatters more of its blue light, leaving orange and reddish hues behind. You can also catch the next partial lunar eclipse in October 2023.
When Is the June 2023 Full Moon?
No matter what your favorite berry is, you can see June 2023's Full Moon in the night sky on Saturday, June 3. It will be at its brightest just before midnight in the eastern U.S. If your schedule doesn't line up with orbital geometry this month, that's okay; the Moon will appear very nearly full on June 2 and June 4, as well.
When is the Next Full Moon?
The next Full Moon, often called the Buck Moon, will appear early in the morning of July 3, 2023. It should still be bright and round for another day or so afterward, offering an excellent backdrop for late-night fireworks.