Why the Greatest Threat To Star-Gazing Isn't Light Pollution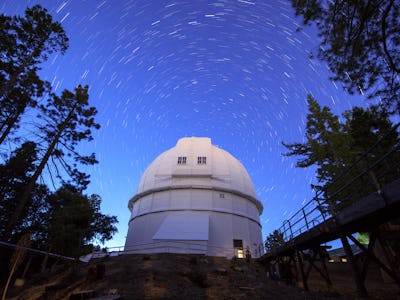 Jeff Dai/Stocktrek Images/Stocktrek Images/Getty Images
It was the "Black Summer" of 2019-20, and Doris Grosse was pregnant with her second child. That year, a particularly horrid wildfire season raged through southeast Australia, the smoke earning the year's summer that terrifying moniker.
While she was able to extend her usual Christmas vacation in the more western region of Victoria, she did eventually have to go home, face the air pollution, and return to work. Grosse was a scientist working at the Research School of Astronomy and Astrophysics campus at Mount Stromlo Observatory.
After an extra week away from the haze, she returned to the laboratory on Mount Stromlo. But the troubles weren't over.
"There were two or three days where we had to interrupt our work and were told to go home for safety reasons not because of air quality from the massive fires around NSW [New South Wales], but because of nearby fires in Canberra and surround[ing areas] that had the potential to impact Mount Stromlo," Grosse recalls to Inverse.
Fire safety is taken very seriously at Mount Stromlo these days. The observatory suffered major bushfire encounters in 2003 and 2013 — and the memories still loom large today. The staff who were there to see these blazes through "remind everyone to stay vigilant through their stories," she says.
Mount Stromlo's 2003 encounter with the Canberra bushfire — regarded today as the most destructive bushfires the country has experienced — was particularly devastating. As part of the recovery process, the observatory built a new facility called the Advanced Instrumentation Technology Centre, costing some AUD $55 million (about $45 million) that took ten years to complete. But the true cost of these fires is priceless. At Stromlo, for example, the observatory's delicate astronomical instruments baked inside the buildings, their shiny metallic dome roofs acting like an oven. It got so hot, the observatory's library went up in flames.
"It was a library that went back 120 years, and it had everything in it. And it's all gone, and irreplaceable," Nobel Prize winning astronomer Brian Schmidt says in a January video reflecting on the fire's 20th anniversary.
Seeing Red
As human-driven climate change makes extreme weather events like hurricanes and wildfires both more common and more devastating, we run the risk of endangering heritage astronomical sites like Mount Stromlo. This is not a hypothetical: In 2017, Hurricane Maria dealt a powerful blow to Puerto Rico and likely contributed to the demise of the iconic Arecibo Observatory. Once the largest single radio dish telescope in the world, Arecibo sustained structural damage from the storm. The National Science Foundation decided to decommission the facility in 2020.
Just as our eyes can see more stars, planets, and other celestial bodies during a clear night sky, telescopes have greater observatory success when built in remote, elevated locations. Telescopes like Mount Stromlo in Australia or Mount Wilson in California that are located in forested regions and atop mountains are particularly susceptible to extreme weather — and especially wildfires.
Natasha Stavros knows this all too well. A fire ecologist and a former science system engineer at NASA's Jet Propulsion Laboratory (JPL) in Pasadena, California, Stavros recalls evacuating from her home in Altadena in 2020 ahead of the unpredictable Bobcat Fire. Decades before JPL's creation, astronomers traveled to this same area to use the Mount Wilson Observatory, nestled in the San Gabriel Mountains. It was here that Edwin Hubble discovered that the Milky Way was but a single galaxy in a Universe with many others.
As the Bobcat Fire progressed unpredictably, its staff worried the historic site would go up in flames. It doesn't happen often, but if a fire sparks below the site, the flames emit airflow that dries out what's above and ahead of it, turning the forest into prone fuel and exacerbating the fire's speed.
It's not just in California. In 2020, a forest fire got close to the historic Bosque Alegre observatory in Cordoba, Argentina. In 2021, a forest fire in Spain's Robledo de Chavela erupted just a few kilometers from NASA's Madrid Deep Space Network (DSN) Communications Complex; JPL manages the site to listen to its spacecraft around other planets.
NASA's Canberra Deep Space Communications Complex in Australia also had a "close call" with wildfires in 2003. According to NASA, the site was unable to communicate with five spacecraft for scheduled communication because the dish antennas were inactive for more than three hours so workers could concentrate on the fire. Fortunately, none of the missed transmissions were "critical or irreplaceable," the agency added.
Experts like Blair Trewin, senior research scientist at Australia's Bureau of Meteorology and co-lead author of its State of the Climate 2022 report, tells Inverse that climate change is linked to longer fire seasons and fewer reprieves between fire events, and that these trends will likely continue into the future.
On the local scale, observatories are kept safe with extensive safety measures. Glen Nagle, outreach and visitor center manager of the Canberra Deep Space Communication Complex, tells Inverse that the site has "an excellent fire break," where the bushland tree line is kept at least 100 meters from the station. A representative from Australia's National Science Agency, the Commonwealth Scientific and Industrial Research Organisation (CSIRO), tells Inverse "we have detailed emergency plans for each of our 50 sites." But mitigating dangerous blazes goes beyond putting out a single fire.
"Probably the strongest climate change signal we see in fire weather in Australia is that the season in which the fire weather is occurring is becoming longer," Trewin tells Inverse. There are generally only a few days out of the year where wildfire conditions are prime, he says. Climate change is stretching that opportunity window into early spring, and Trewin's State of the Climate 2022 report found that this trend will continue into the future.
Resetting the Feedback Loop
Fire is a paradox, Stavros tells Inverse. If her experiences have shown her anything, it's that society needs to rethink its relationship with wildfires. We need to live with it, learn to embrace its role in our ecosystem, its inevitability, and double-down on measures within our control to curb extreme runaway wildfires, she says.
"I would say that the first thing that all civilians could do is they could start shifting the narrative away from one of fear to one of acceptance," Stavros says. "Yes, it's scary that I evacuated. And that fire is not the same as all other fires, as many other fires."
Despite an existential threat many observatories face with fire, it's not all hopeless. There are ways to protect our celestial heritage sites — and one of them is to use fire to our advantage.
Indigenous cultural fires and prescribed fires (where officials burn areas as part of extreme weather mitigation or conservation) permit the land to burn. Fire is a part of nature, according to John Waconda, a member of Isleta Pueblo and the first-ever Indigenous Partnerships Program Director with the non-profit The Nature Conservancy. Waconda formerly worked with the U.S. Forest Service.
"When it comes to balance and fire, there can be too much, and there can be too little," Waconda says in a 2021 article published by the U.S. Forest Service. "If you remove fire or try to change its natural cycle, you're creating an unnatural environment with dense, overstocked forests that will cause repercussions later."
It is a "very negative feedback loop," Stavros says, creating a fear of fire so intense people want to "shut down fire," even if the best way to mitigate extreme weather might actually be to allow fire, albeit in a more controlled setting, she says.
For example, in 2020 the Bobcat Fire got very close to Mount Wilson Observatory, but didn't destroy anything — in part because land was preemptively burned, effectively clearing it of fuel for the flames. Mount Wilson Observatory executive director Thomas Meneghini told Space.com in 2020 that they prevented encroachment from an unanticipated fire outbreak nearby with a blend of aerial fire retardant drops and strategic burning.
Beyond using fire to fight wildfires, astronomers are also looking to more technological ways to safeguard our observatories. Windy.com and the National Science Foundation funded WIFIRE Firemap offer different data layers and satellite views to help track fires as they spread, for example.
Beyond tracking fires, scientists are increasingly using A.I. to predict where fires and other forms of extreme weather might hit and spread. Similarly, the Stanford Woods Institute for the Environment has created a model that can analyze weather maps and spatial information and then make rainfall predictions for the U.S. Midwest.
Both the night sky and fire are some of humanity's oldest tools to understand where and who we are in the world. With these models, scientists can make increasingly reliable forecasts at the regional level, giving them a little more warning time to safeguard observatories and preserve the science within.
"Fire is a paradox, right? Paradox means we have to hold two truths that seem contradictory," Stavros says. "Fire is warm and comfort. Fire can be scary. It's both. It's not one or the other."