47 Popular Home Upgrades People Are Making That Are Under $35 on Amazon
Make your home more luxurious and soothing with these tips.
by Christina X. Wood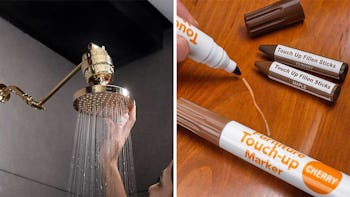 We may receive a portion of sales if you purchase a product through a link in this article.
Maybe your kitchen and bathroom are begging for a complete remodel, but you don't have a ton of cash to spend on upgrades. Don't worry: Small improvements don't have to cost a fortune. My specific approach is starting with the little things because they can make a big difference. For example, before I change the cabinets, I change the handles — and before I replace the flooring, I put down throw rugs. It's possible to make these kinds of changes without spending hundreds of dollars, especially with these Amazon products that are under $35.
That's right: Thanks to the items on this list — which range from home improvement tools to luxurious bed sheets — upgrading your space can be easy and affordable. From an adjustable mount that lets you put a recipe screen in the kitchen to a curtain made of glistening string lights to help create a soothing atmosphere, you'll find loads of terrific, cost-effective, and fun home upgrades. There are even things like silicone furniture feet to help protect your hardwood floors, along with peel-and-stick backsplash for your kitchen.
What's cool about all of these products is that so many Amazon shoppers can't get enough of them, as they've left hundreds and thousands of positive reviews. Go ahead and join the masses; add new products to your cart and upgrade your living space on a budget.
1. These machine-washable gel pillows that feel super cool
This set of pillows will always feel cool and super clean. It's because the cooling gel fiber filling and the stain-resistant cover are both machine-washable. These easy-to-clean pillows are also covered in breathable and fade-resistant cotton. Plus, this luxurious cover stops the temperature-regulating filling from bunching up.
2. The door draft stopper that's simple to install
If you're shivering indoors (even when your door is shut), installing this insulated draft stopper at the bottom of your exterior door can help. Cut it to size, peel and stick it to the door, and keep your heat inside — and the cold, sound, and even bugs outside.
3. This 40-foot cleaning kit for your dryer vent
If your clothes seem like they take forever to dry, it might be time to clean out those dryer vents. This dryer vent cleaning kit can help you do just that. It reaches up to 40 feet allowing you to clean out lint build-up in those hard-to-reach crevasses like the vent, duct, and exhaust port. Reviewers are thrilled with how well this product works for the price. "I was skeptical at first but became a believer," one shopper wrote. "The amount of lint that came out was beyond comprehension!"
4. A rainfall shower head with better water pressure
Replacing your current shower head with this high pressure rainfall shower head will bring tropical rain vibes to your bathroom, and elevate your shower experience. It's available in six different colors and finishes to match any space. Even better, it's easy to install, too. One reviewer raved, "The pressure is strong while the water feels, soft? Is that even possible? Surely there is wizard involved in Spark Pod's design."
5. These sleek shelves that organize your shower
If you ask me, this set of shower caddies is the solution to every single one of your shower organization problems. There are two caddies and one soap holder that hang from a clear adhesive backing. The caddies have hooks for your sponges or razors, and all the pieces are able to reposition.
6. These LED puck lights that give light to dark closets and hallways
Good lighting is the instant upgrade that keeps giving because it makes any room look more spectacular. But it comes at a cost. That's why this two-pack of LED wireless touch lights is such a find — they are designed with self-adhesive backs and you simply stick them under cabinets, in dark closets and hallways, and anywhere else you need illumination. They will make your home look more expensive for a fraction of the cost of custom lighting.
7. This sturdy cast iron pan with two pouring spouts
This pre-seasoned cast iron pan makes home cooking just a little easier. This 12.5-inch pan fits right on your stove or even in your oven for easier cooking and baking. It's got a wide, round surface and two pouring spouts to remove extra oil. Plus, there's an extra handle on the side for when you're ready to take this durable pan off the stove.
8. These silicone furniture feet to help prevent scratches
There's a better way to stop your chairs from scraping the floor than the irritating adhesive felt pads you've probably been using. These silicone shoes that fit over your chair feet have a cork sole to stop the noise — and they're simple, stay on, and don't attract dust and pet fur. Just put them on the chair feet just as you would shoes.
9. This genius way to round up your tangled cables
That pile of cables and cords under your desk or behind the TV is probably visible, but you can make it less so by wrangling it all into this decorative box. All the cords exit through the back, so it looks sleek — and the lid snaps on securely to help keep small paws out.
10. A set of stove covers that are seriously easy to clean
These burner covers make cleaning the stove as easy and satisfying as pulling the plastic cover off a new phone. All the dirt and spills comes away with them, leaving your stove instantly clean. You can put the covers in the dishwasher (or wash them in the sink), and then put them back on with minimal effort.
11. An easy and clever solution to damaged walls
Home maintenance can feel daunting, but this small hole repair kit makes fixing nicks and holes in your walls a breeze. It comes with everything you need to patch things up: a screen to affix over the hole, spackle to cover it, a scraper to spread it, and a sander to smooth things over. The entire repair can be completed in just minutes.
12. These transparent storage bins for ultimate pantry organization
Turn any cluttered kitchen space into a pristine and practical organization system, with these airtight food storage containers. The set comes with seven containers in four different sizes, all of which have flip lock lids. They're clear, so you can see what's inside, plus a set of chalkboard-style label stickers and a pen are included for labeling, too.
13. These soft Velcro covers for your fridge handles
If your fridge is made with stainless steel, these double-sided handle covers will help protect them from stains. Simply Velcro them on and never look at handprints all over your appliance handles again. They look sleek — but when they get dirty, you can throw them in the wash. This is a two-pack for a fridge.
14. The chic French press that makes delicious coffee
Make your first cup of coffee of the day as special as possible by brewing it in this elegant copper French press coffee maker. The large coffee maker is designed with a quality heat-resistant combination of stainless steel and borosilicate glass and can be used to brew three 8-ounce cups of coffee. One reviewer called it the best French press they've ever owned and raved, "Press actually goes all the way to the bottom, lid fits securely, the bronze casing hasn't scraped the glass like I thought it would, it's awesome [...]."
15. The stylish 6-piece kitchen knife set made with stainless steel
Complete with ergonomic, nonslip handles and stylish rose gold accents, this kitchen knife set will help upgrade your kitchen. The pack arrives with its own base that'll hold all six knives on display, including a pairing knife, a utility knife, a carving knife, a chef knife, and a bread knife. They're all dishwasher-safe, too.
16. The trendy outdoor string lights that deliver ambiance to your backyard
Add some charm to your backyard space with these outdoor string lights. Since they're solar powered, you'll save big on energy costs, too. The strand of lights is 27 feet long and charges via a separate solar panel. Each bulb can last up to 20,000 hours and the lights power on and off automatically at nighttime.
17. A rotating sprinkler that's super affordable
Care for your yard with a minimal investment using this sprinkler that rotates a full 360 degrees. It has three separate arms with four nozzles on each for a wide range of coverage. It can effectively water 3,600 square feet with an impressive 80 PSI water pressure.
18. This sound machine to help you sleep better
This sound machine plays six relaxing sounds — including white noise, fan, ocean, rain, stream, and summer night — to help you get a more restful night of slumber. Utilize the optional built-in sleep timer to turn the device off after 15, 30, or 60 minutes. This pick is compact in design for portability, and it can be recharged via USB (the power cable is included).
19. This set of sleek mixing bowls to elevate the kitchen
Mix up cookie dough in the soup pot no longer! This set of six stainless steel mixing bowls ranges from a generous 8 quarts (sizable enough to serve salad to an army) to just 3/4 of a quart (fill it with cheese for said salad, why not?). They nest together for easy storage and are crafted from durable yet lightweight stainless steel.
20. This boot scrubber that keeps dirt out of your house
Even if you don't demand that everyone who enters take their shoes off, you can offer a way for them to easily get their dirty boots clean first. Set this boot-cleaning brush in the entryway, and with a quick step and scrape, everyone can remove the caked on mud, snow, or whatever else they're about to track across your floors.
21. This salt & pepper shaker set with lids for backyard parties
You can easily pull out these salt and pepper shaker set for weeknight dinners and backyard parties. These durable stainless steel shakers are complete with lids that are super helpful for an outdoor dinner. They also come with four spice-pouring settings. Plus, there's a glass bottom to see when they're empty.
22. The markers & crayons that fix your dinged wooden furniture
If your hardwood floors have a few scratches, you don't have to clear all the furniture and move out for days to have them refinished. You can fix those — and all the marks on furniture and cabinets — quickly with this wood repair kit. Fill the deep scratches with the wax crayons and cover blemishes with the markers. It works on furniture, cabinets, floors, and other wood surfaces.
23. The tile backsplash you can install by yourself
If you can put on a Band-Aid, you can do your own backsplash. This peel-and-stick tile backsplash is easy to install, looks amazing, cleans beautifully, and is easy to trim with scissors (according to over 2,000 reviewers who've used it to do a super-cheap, DIY kitchen upgrades).
24. A tacky putty that protects your breakables
Bumps, shakes, and quakes happen in life, but you can protect your valuable items from falling off shelves and tables with this museum putty. It comes in a 2.6-ounce container and couldn't be simpler to use: simply break off a small amount, roll it into a ball, and stick it on the bottom of your breakable item. Once it's pressed firmly onto the surface of your choosing, it will stay in place. You can remove it by twisting the object off the surface.
25. This cable organizer set that tames charger chaos
How much of your desk is devoted to a cluttered collection of charging cables? This clip organization system will help reduce that mess. Just stick the clips to the back of your desk (or even to your car's dash or bedside table), and snap the cables in. They'll stay put so you'll always know where they are.
26. These clips that help prevent fitted sheets from sliding off
If you have a deep mattress or your favorite sheets are starting to lose elasticity in the corners, these adjustable sheet clips are a quick and easy way to keep them on the bed. Clip the sheets into the clasps then cinch them tight. Almost 10,000 people approve of them.
27. The satin pillowcases that are gentle on your skin & hair
When you lie down to sleep, the fabric of your pillowcase rubs against your hair and skin for hours. The texture can either tug your strands or help keep them smooth, depending on the fabric. These satin cases do the latter, which means you wake up less tousled and with hair that hasn't been pulled on all night. These are silky as can be and come in 21 beautiful colors.
28. These oil & vinegar dispensers with convenient measurement markings
These oil and vinegar dispensers will certainly look stylish on a countertop or table in your home — but they are also quite functional to boot. Made from durable borosilicate glass, the dispensers have a wide opening for easy filling and measurement markings along the side to dispense the correct amount of product every time. The filter in the lid ensures the spout won't get clogged for smooth and effortless pouring.
29. This clever butter dish that's easy to use
Forget fumbling around with multiple parts, because this flip-top butter dish features a pivoting garage door-style cover that's attached to the bottom dish. You can fit two slim butter sticks or one larger one at a time, and it even comes with a spreader that sits conveniently in a cradle at the base. Better yet, the whole dish comes apart and is safe to put in the dishwasher.
30. A under-bed storage bag that lets you reach everything
It's all about the zipper lid on this under-bed storage bag. It's a transparent top that opens all the way, so you can access all of your extra bedding from the top. This linen bag also has a tear-proof handle on the side that won't get in the way of this handy zipper design.
31. These easy-to-install lights that are touch sensitive
Take the simple and easy road to excellent under-cabinet lighting and stop worrying about wiring and construction by mounting these battery-operated LED lights, which are touch sensitive. Just peel and stick the lights to the underside of your cabinets, and tap to turn them on. That's it. They're battery operated and super easy to install. Plus, you can take them if you move, and they're nearly invisible when off.
32. The fridge deodorizer that stops unwanted smells
If your fridge needs a refresh, you can easily eliminate unwanted odors with these powerful fridge deodorizers. While they're unscented, they work for up to six months until needing to be replaced — and you can even use them in the freezer. Each pack comes with two, so you can replace when necessary, without having to bother with reordering
33. These colorful sheets with extra-deep pockets
If you're looking to upgrade your bedding, start with this sheet set that features a flat sheet, a fitted sheet, and four pillowcases. The fitted sheet is constructed to fit even deep mattresses, thanks to its 18-inch pocket. Its microfiber material is lightweight, breathable, and resists wrinkling, even in the dryer. Snag them in several sizes and in 42 vibrant colors.
34. This bamboo mat for a dry bathroom floor
Step out of the bath or shower onto this bamboo mat and let the water drip away from your feet. The mat shouldn't slide out from under you, because there are grippy rubber feet on the bottom — and it won't hold water like a fabric rug. Four of these mats together make a unique and inexpensive floor covering.
35. This bamboo organizer for your snack bags
This box, which measures 12 by 13 by 3 inches, is separated into four compartments to organize your snack bags. The spaces are specifically sized to fit quart, sandwich, snack, and gallon plastic bags — and the entire unit can be placed in your kitchen drawer, in a cabinet, or even on your wall.
36. These grippers that keep your rugs from curling and shifting
Having to re-adjust your area rugs after they shift and slide gets old quickly. These corner grippers will solve that dilemma by securing the corners of any type of rug to the floor. Rather than adhesive, they use a hook and loop design that allows you to easily and swiftly fasten and re-fasten your rug in place. "I purchased this based on reviews and I'm happy I did," one fan raved. "It securely holds down a stubborn corner of my living room rug even when my vacuum bot runs over it."
37. The brilliant pet hair remover you can keep using
When an affectionate pet deposits a patch of fur on your pants or leaves a bed of it on the couch, just wipe it up with one of these two adhesive brushes. They're effective because their surfaces are armed with dense, grippy material (and not sticky, disposable sheets). When the brush is covered in fur, just insert it into the cover and that fur will get pulled right off. You'll get a large brush for home and a smaller travel brush.
38. This clothes steamer that heats up super fast
Plug this portable fabric steamer in and within minutes, it'll be ready to steam your clothes and have them looking fresh and new again. It's compact enough that you can pack it for travel, or easily store it at home. The water tank has capacity for up to 10 minutes of usage, and it promises to work on all types of fabric.
39. The solution to your cluttered refrigerator
Do you get bummed when you open the fridge and find chaos inside? Well, when you've got these transparent, stackable storage bins, you'll be able to sort and organize to your heart's content. Even better, the BPA-free and shatterproof bins also work in pantries, cabinets, or closets, and side handles make them easy to move and shift as needed.
40. These fillable paint pens for quick touch-ups
If you have painted surfaces around your home that could use a bit of a touch up, these pens make it super simple to do. Simply fill the pen with the correct paint color (utilize the included syringe for this), snap the brush tip on, twist the bottom of the pen, and you're all ready to paint. The brush tip is small for precision, and the paint will stay fresh inside the pen for 7-plus years.
41. A practical hair remover tool you can keep reusing
Unlike traditional lint rollers which have you constantly throwing out and replacing sticky sheets, this pet hair remover is reusable. You simply roll the fabric side back and forth over your clothes or furniture to generate static cling that attracts lint and hair. Then, just press the button to empty the chamber and peel off debris.
42. These adjustable drawer dividers made of sleek bamboo
Slip these expandable dividers into your silverware drawer, and make space for your forks, spoons, and knives — and more. Each pack comes with four dividers, so you can create up to five slots in a drawer. They stay in place with a built-in spring that creates just enough tension to keep them steady and snug.
43. These silicone bags that can replace your freezer bags
You'll never have to buy disposable plastic freezer bags again once you stock your kitchen with these resealable, reusable, durable, storage bags. They zip closed and don't leak — but they're also transparent, and you can wash them hundreds of times.
44. A cocktail shaker set that's easy to wash
Pulling out this cocktail shaker set is worth it for a drink or a shaken iced coffee. It's worth it because the 1.5 ounce measurer, straining lid, cap, and the shaker cup are all dishwasher-safe. Plus, this 24 ounce stainless steel shaker set will stay rust-free.
45. This pack of versatile, fluffy throw pillows
Brighten up any room with this set of crisp, white throw pillows. They come four to a pack, feature a plush polyester fiber fill, and measure a generous 18-by-18 inches. Display them on their own or use them as pillow inserts to showcase your favorite shams.
46. These reusable dishcloths that look like extra-plush paper towels
The reusable Swedish dishcloths won't stand out in your kitchen. Instead, these super absorbent cloths simply look like extra-plush paper towels on your counter. These cellulose and cotton cloths are also better at scrubbing with their textured design. Plus, you won't fill up your kitchen trash can with these biodegradable and odorless cloths every day.
47. This bidet with a self-cleaning mode
This inexpensive add-on bidet will help you rinse every time — and it's about the same price as a single case of toilet paper. It has an adjustable spray on two nozzles (front and back), as well as an automatic cleaning mode. Installation is super easy.