Look! Hope Space Probe Just Captured Our Best View Yet of Mars' Enigmatic Moon Deimos
The new Deimos photos are just a preview of what's to come in 2025.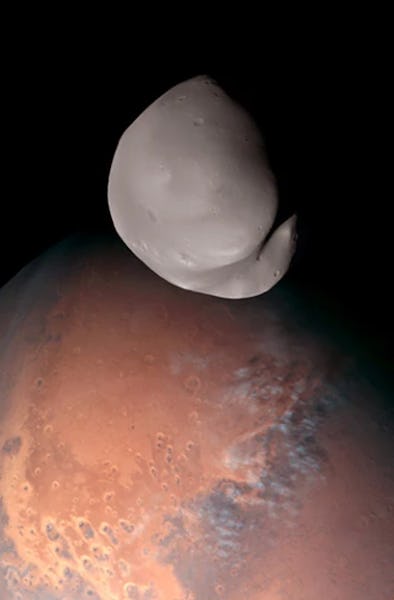 UAE Space Agency
Our closest look ever at Martian moon Deimos might help pave the way for crewed bases on the moons of Mars.
The United Arab Emirates' Hope space probe recently zipped past Mars' tiny outermost moon, Deimos. During the process, Hope's cameras captured the closest, most detailed image yet of the three-mile-wide, potato-shaped chunk of rock – and the first-ever look at its far side.
Meanwhile, the spacecraft's Emirates Mars Infrared Spectrometer also measured the composition of the moon in an effort to settle a 150-year-old debate about its origins.
Spectrometers like EMIS separate the light shining, or reflecting, from an object's surface into the individual wavelengths that make it up. Every chemical absorbs and emits specific wavelengths of light, so a spectrometer can basically read an object's chemical fingerprint in light. Hope's look at Deimos found mostly basalt: the same rock that makes up most of the Martian crust.
That suggests that Deimos might once have been a chunk of Mars itself, blasted into orbit when an asteroid slammed into the planet long ago.
Earlier measurements from other spacecraft found a spectrum of light more like that of a specific type of asteroid, which seemed to support a theory that Deimos was once an asteroid, wild and free until Mars' gravity captured it and pulled it into orbit around the planet. None of those earlier spacecraft got as close to Deimos as Hope, however.
Other theories about where Deimos and its equally potato-like sibling Phobos came from include that they formed from conglomerations of rocky rubble orbiting Mars. That material could have come from asteroids, from the Martian surface, or from a mix of both. Both moons look like misshapen potatoes because they're too small for gravity to force them into proper spheres.
Hope will fly past Deimos several more times this year, gathering more data in the process, but its main goal is to study the Martian atmosphere.
Meanwhile, Japanese space agency JAXA's Martian Moons eXoplorer (MMX) mission is scheduled to launch next year. When it arrives at Phobos in 2025, one of its main tasks will be landing on the moon and collecting a small, ten-gram sample of regolith. The lander and the sample won't make it back to Earth until 2029, but when they do, it should help settle the question of how Mars got its moons.
Scientists and engineers at NASA are waiting eagerly for what those samples might reveal because the two small moons might make interesting bases for future Mars astronauts if they're stable enough and offer the right surface conditions for landing.
"Their position orbiting Mars may make them a prime target for humans to visit first before reaching the surface of the Red Planet," NASA Chief Scientist Jim Green told the press in 2020, "but that will only be possible after the results of the MMX mission have been completed.