NASA and Boeing's Starliner plan to break a major space travel obstacle
Plus: Goodbye, NASA's InSight Lander.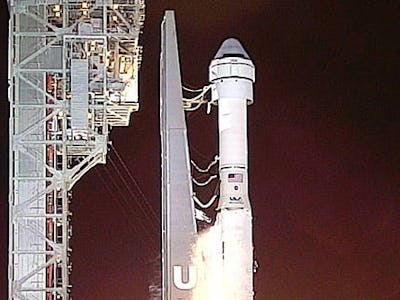 NASA
If you've been reading Inverse Daily for a while, then you know me: I love a good story about space. But why stop at one when you can have three? If this is your first-ever Inverse Daily, then buckle up: We're off to orbit with Boeing's Starliner launch, which is happening later today and is supposed to dock with the International Space Station on Friday, May 20 (hopefully).
This is an adapted version of the Inverse Daily newsletter for Thursday, May 19, 2022. Subscribe for free and learn something new every day.
It's Thursday and we are 139 days into 2022. My daughter is already asking for Christmas gifts (a watch) but I will settle for an uninterrupted night's sleep. Welcome to today's space extravaganza — with a little pollution-based horror thrown in for spice.
A new report published Tuesday in The Lancet Planetary Health finds that pollution is still killing a staggering number of people worldwide, predominantly in lower- and middle-income countries. But pollution is a severe threat to the health of every single person on the planet, the report authors urge.
"People in the United States need to be concerned about these findings," Philip Landrigan, a co-author of the report and director of Boston College's Global Pollution Observatory, tells Inverse.
The report's most damning conclusion: nine million people around the globe die prematurely due to pollution each year. The World Health Organization reports that there were 55.4 million deaths in 2019, meaning that pollution causes nearly one-in-six deaths worldwide. More than 90 percent of these deaths occur in lower- and middle-income countries, predominantly in parts of Asia and Africa.
A sobering and necessary read.
Your parents were right: Don't stare into the Sun — unless you are an orbiter designed to stare at the Sun that is. In March, NASA and ESA's Solar Orbiter had a close encounter with the Sun. Pictures and videos from its venture reveal new mysteries about our home star.
For ESA's Solar Orbiter, getting blasted by the Sun's energy is no sweat. And the orbiter's ability to get up close and personal is giving us a new view of our home star's surface.
This week, the European Space Agency released a trove of new videos and photos from that March encounter, including the sharpest view ever captured of the Sun's south pole.
Much of the Sun's energy is emitted at wavelengths invisible to the human eye.
But researchers are able to color code features on the Sun using Solar Orbiter's data in order to give us an accurate representation of what the surface looks like — and it is jaw-droppingly beautiful.
The second launch of the Starliner will take place today, Thursday, with Boeing's commercial crew ambitions somewhat on the line.
Orbital Flight Test 2 (OFT-2) is a much-anticipated mission, aiming to succeed where OFT-1 failed.
The aforementioned flight test was plagued by two critical navigation issues with the CST-100 Starliner spacecraft. Three years later, Boeing hopes to prove their system with a successful launch, orbit, and docking at the International Space Station (ISS). If all goes according to plan, Starliner will successfully deliver 500 pounds of cargo to the ISS and set the stage for the Starliner's first crewed mission to the station later this year.
Boeing's Starliner program is a vital component of its space program in the coming years. The Starliner is in stiff competition with SpaceX's Crew Dragon to transport astronauts to the ISS — but unlike Starliner, Crew Dragon has carried five missions to the ISS, most recently Crew-4 and the Axiom-1 private tourist mission. As a prerequisite to carrying crews to orbit, Boeing must prove the safety of its launch system. This includes critical orbital missions like OFT-2 that must take place before any astronauts can launch aboard the capsule.
The InSight lander set down on Mars in November 2018. But now, like Opportunity before it, Mars dust is shutting down solar power to the mission.
During a Tuesday teleconference, the InSight team announced that the solar panels of the stationary probe are covered in Martian dust, obstructing its energy source. This means that InSight will begin slowly preparing for its retirement, with science operations reaching their finale by the end of this summer.
This update comes just two weeks after the probe's highly sensitive seismometer detected the strongest quake ever recorded on another planet.
When InSight first reached Mars in November 2018, "we were at approximately 5,000 watt-hours per sol," Kathya Zamora Garcia, InSight deputy project manager, said in the press conference. "Sol" refers to a Martian day. "Today, we are at about a tenth of that available power, approximately about 500 watt-hours per sol."
Martian dust is coating the solar panels, which "limits the amount of activities we can do," she said. "That includes running the seismometer, other instruments, and moving our arm."
About this newsletter: Do you think it can be improved? Have a story idea? Want to share a story about the time you met an astronaut? Send those thoughts and more to newsletter@inverse.com.