The 5 best projectors for daylight viewing
Afternoon movie marathons coming right up.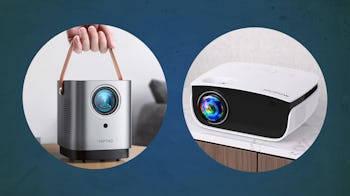 Amazon/Inverse
We may receive a portion of sales if you purchase a product through a link in this article.
You don't need to sit in total darkness in order to view films (or any other form of media) on a projector. High-quality projectors can deliver crystal clear images in brightly lit settings, including the outdoors. The best projectors for daylight viewing have enough lumens to hold up on a bright day and deliver an image quality that meets your standards, whether that's 4K resolution or a high-contrast picture.
What to look for when shopping for the best projectors for daylight viewing
Brightness & contrast
Brightness is the single most important factor when shopping for good projectors for daylight use. This is typically measured in either lumens or a more accurate and standardized value known as American National Standards Institute (ANSI) lumens. If you're using a projector before sunset, you'll ideally want to look for a minimum of 3,000 lumens or 1,000 ANSI lumens to ensure that images won't be dull or washed out by the sun. However, projectors with this much brightness tend to be cost-prohibitive. If budget is a factor, you may want to opt for a budget projector with fewer lumens and make adjustments to your environment for optimal viewing (e.g., draw the shades, or if you're outside, set the screen up in a shady area). You can also sift through customer reviews to see how the projector performs in brighter conditions. Last, it's also important to keep in mind that the larger the screen size, the more lumens are required for premium image quality. Essentially, the best projector screen for daylight use will be on the smaller end of the spectrum, but you can also set expectations for large-screen viewing accordingly.
You'll also want to consider contrast ratio, which measures the intensity of light and dark shades against each other. The higher the ratio, the more contrast you'll get. Generally speaking, you'll want to aim for a ratio of 3000:1 — but a higher ratio will be even better for daylight viewing.
Resolution
Another spec to consider is resolution, which will translate to image quality. Projectors typically display images in 720p, 1080p, or 4K — the higher the number of pixels, the sharper and clearer the image. Again, this will be a cost trade-off as higher resolution projectors tend to be pricier.
Sound
You'll also want a projector with sound quality that suits the size of your space. All the projectors here have built-in speakers, but keep in mind you may want to use Bluetooth or AUX ports to connect external speakers for more immersive sound.
Wi-Fi Connectivity
If you're using your projector to watch content from your smartphone, look for built-in Wi-Fi so you can utilize the screen mirroring function — otherwise you may need to purchase an HDMI cable in order to connect. However, those who want to sync their projector with a streaming service should note that copyright protections will often block transmission when screen mirroring. In this case, you will need an Amazon Fire TV Stick or Roku in order to stream on your projector.
Whether you're in the market for a backyard movie projector or something for marathon gaming sessions, you're in the right place — these are the best projectors for daylight viewing on Amazon.
Shop the best projectors for daylight viewing
In a hurry? These are the best projectors for daylight viewing: