Meet the Weed Genius Designing the World's First Cannabis Ranch 
Wine has wineries. Beer has breweries. Marijuana is about to get the Colorado Cannabis Ranch.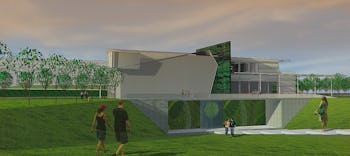 American Cannabis Partners
Weed is big business and legal weed will become bigger still. That's why American Cannabis Partners CEO Christian Hageseth thinks the time is right to open up the Colorado Cannabis Ranch, the world's first-ever "weedery."
Like a winery, the 50-acre Denver ranch will feature tours, gourmet food, concerts, and, when Centennial State law allows it, tastings. While profit is the major motive here, capitalism isn't Hageseth's sole ideological: He wants to take marijuana out of the alleys and put it in nature, where it belongs. He spoke to Inverse about designing the weedery "cathedral," the parallels between a sativa and sauvignon blanc, and why it's important that Eddie Vedder and U2 play on opening night.
You're calling it a "weedery" to draw associations with wineries. How is that mindset shaping the way you're designing the place?
We want to be more like Napa Valley and less like South Padre Beach at spring break. It's a really critical part of it. We're going to have a very large-scale cultivation facility, so we're going to grow more products and have a better margin, so we'll have higher revenue and we'll make more money, which is good for business. But the secondary part of both a brewery and a weedery is this is a place where we want to invite the public to come in and take a tour. For most people, they've never seen a live marijuana plant. They don't know very much about the life cycle of it — the fact that we grow marijuana from mother plants, not from seed. How that process works and what the environments look like.
Why is that important?
Hopefully, that first-hand experience will help a lot of people to demystify marijuana so it won't be so foreign and scary to them. Rather, let them find familiarity with it, and they'll draw their own conclusions. I hope that conclusion is that marijuana is like a plant much like any others, like roses or grapes.
What else goes on at the weed ranch?
The tour will begin and end in a gift shop, so that we can not only demystify marijuana, but get them familiar with our particular brand or marijuana in hopes that they will develop a knowledge of our brand and hopefully an affinity at some point. So, if they have a choice of which marijuana to buy, they'll choose our brand. And then there's an on-site dispensary so they can actually buy some of the marijuana products that we grow there. There's also a restaurant with a rooftop bar, so they can get a burger and beer and enjoy the day. And an on-site amphitheater because music and marijuana go together like peanut butter and chocolate.
What does a weed ranch look like?
The whole system will be built on 50 acres. It won't just be a collection of buildings — it will really be a campus. There will be a main building where you come in and there's an automobile receptionary where you pull in your car, there will probably be a valet and parking.
The main reception hall is designed to evoke an emotional response from the people that come into it. It has what I call cathedral light proportions: Most cathedrals are long, narrow, and very tall. Ours will be similar to that. At the top there will be windows, so there will be light coming in from the top. At the far wall when you walk in there will be a living wall of plants, and then there will be a waterfall that comes down in the middle of those plants. I want people to have a sense of being in nature. The aesthetic we're going for is really to put marijuana back in nature.
It seems like the Cannabis Ranch is your way of rebranding the drug.
I don't want to talk about the prohibition of marijuana, any of the cultural influences on marijuana. I don't want to talk about jazz music or hip hop or rap. I just want to take marijuana as a plant and put it back in nature and let people see it for that. I think a lot of our misgivings and our misperceptions about marijuana are related to cultural stereotypes that have been repeated. Like, "Marijuana is like brown leaves at the bottom of the bag that bad guys carry in their pocket!" No — marijuana is a beautiful flower that grows on every continent. There are as many varieties of cannabis as there are of roses. If you can appreciate that a red rose is like super lemon haze and a yellow rose is like sour diesel, then you can begin to appreciate the subtle differences between each plant. The way they look, the way they smell, eventually when you smoke, what do they taste like, what's the high like? It's very similar to wine varietals: You drink a pinot noir or sauvignon blanc. You can smoke a pure indica or a pure sativa, or a hybrid.
What will guests watch at the amphitheater?
A lot of live music will be the bread and butter, but we'll also use it for any type of appropriate public event. We've talked about doing farmers markets out there, doing large yoga classes, things like that. A community event like farmers markets, fitness classes like yoga, any kind of event that might apply live music. I'd love to host a political debate. I'd like to invite the presidential candidates to come out and be on our stage and talk about these types of social issues.
What kind of live music are we talking?
My personal hope is, I'd love to have Matisyahu out there. And Pearl Jam. But even more, in particular, to have Eddie Vedder do an acoustic set. And then someday, if the world really came into alignment, to have U2 play out there. A lot of bands that are interested in it because of the relationship to marijuana — you get people like Wiz Khalifa and Snoop Dogg and Redman and Method Man. Their music is inspired by and about marijuana, so for them to come play a location like this is just a given. But some of the bands I mentioned are broadening that. If U2 and Eddie Vedder and Matisyahu come out there — none of them are real outside proponents of marijuana — so it would represent that we've reached a new level of acceptance.
How profitable is this project going to be?
Just from wholesale marijuana, that number is about $60 million in revenue and about $35 million in earnings. And then all the other businesses add to that. The hotel revenue and ticket sale and the restaurant and bar, gift shop, dispensary, all those will go on top of it. So I'm sure we'll do, as a combined business, over $100 million in revenue each year. But the real workhorse of that is the growing a lot of marijuana and selling that at wholesale to other dispensaries in the state.
Will there be marijuana "tastings"?
Eventually. I really hope we will. With the way the law works currently, we can't do that. In Colorado, it's basically the liquor store model. You can buy it legally in a dispensary, but you have to take it out of there in a sealed container and then take it to your home to use. Right now for marijuana, you can only smoke it in your home. But I think that will change.
We will be able to grow marijuana and sell it on site. And we're going to have an outdoor amphitheater — I've truly never been to a concert outdoors where I didn't smell somebody smoking pot. We would have to be the first outdoor concert in the history of the world to stop it from happening. But, I have a 100% compliance record. I have no violations for any of my licenses and I don't plan to. We're going to follow all the rules, but there's realities too. After people buy it and they're listening to a concert, are they going to smoke it? Probably.