Instagram Starts Testing Support for Multiple Accounts on the Same Device
Finally, no more logging in and out all the time.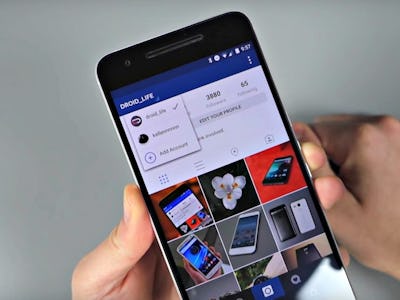 YouTube Screenshot
If you've got an Instagram account for you… and one for your Insta-famous pet, it's certainly a huge pain in the ass app to have to log out from one account and into another in order to post a cute photo of your pup during nap time or that killer pasta you whipped up last night (no filter!).
But now, Instagram has started quietly rolling out support testing for multiple accounts on Androids, much to the delight of social media managers and Instagram addicts everywhere. Right now, the update works on Instagram version 7.12.0 (which is available to beta testers).
How does it work? Looks like switching between accounts is going to be pretty easy. Just go to your profile tab and tap your username in the upper left corner. You'll be presented with a dropdown menu with the various accounts you're logged into on that device. Tap the account you want to use, and Instagram switches over to that one. And that's it!
However, it doesn't look like you can post to multiple accounts at the same time yet, so you'll have to wait to double post that Valencia-tinted sunset.
Here's a video that shows how you lucky Droid-using, Instagram beta testers can use these preliminary account-switching features:
There's no guarantee this account-switching feature will make it over to the public app — but considering the uproar this mini-version is causing, we can't help but think this update will happen at some point in the future.