Why Your Disaster Kit Should Include a Drone
The Red Cross agrees: The life your sUAS saves may be your own.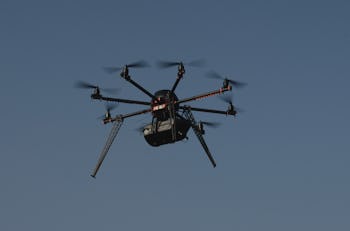 wikimedia commons
Along with fresh water, canned food and that dubiously useful aluminum-foil blanket, drones could become a crucial part of your personal emergency preparedness kit.
This assumes, though, that authorities continue to allow the use of small unmanned aerial systems (sUAS) in disaster areas in the coming years.
In California, drone use was said to have interfered with local firefighters' efforts to abate wildfires, leading the state's legislature to pass a bill restricting non-commercial drone use over disaster areas — a bill that California governor Jerry Brown vetoed, saying it went too far.
Elsewhere, in Texas, after flooding in Austin endangered the lives of several residents, drones were said by some first responders to have interfered with rescue operations.
But on the flipside, one civilian's use of a drone to identify the location of four stranded people was credited with saving their lives.
A similar story was reported from Nepal, where drones were an integral part of relief efforts to victims of a devastating earthquake.
It's a fascinating question of means vs. ends: Are drones a pinnacle example of "situational help in a time of need," a term coined in "The Unmanned Helping Hand", an article on drones published in Homeland Security Today. Or do those in trouble wind up worse off, thanks to the interference of drones?
One organization particularly well-acquainted with saving lives has an answer. The American Red Cross, in conjunction with other agencies, recently released a 52-page report exploring the viability of drones at surveilling difficult areas during disaster scenarios.
Among the policy recommendations in that report:
Develop an emergency course of action for private sector and non-profit organizations that would allow for the on-demand operation of drones post-disaster and issue blanket approval for locations in which these entities can fly.
Permit small and microUAS (unmanned aircraft systems) operations in controlled airspace within disaster areas.
Permit commercial small and microUAS operations over populated areas during declared emergencies.
We can take the Red Cross's interest in sUAS as a sign the machines may help save lives. But given the chance to own one, should we take matters into our own hands? In disaster situations, drones can act as both information-gathering pseudo-helicopter and carrier pigeon. They can communicate the location of stranded survivors — especially if we are the survivors.
One issue complicating private drone ownership, and use, is existing regulation. At present, drone use is governed by the Federal Aviation Administration (FAA) Modernization and Reform Act. Amended in February 2015, this act sets restrictions on commercial drones, including only flying during daylight hours; setting a 500-foot flight ceiling; and mandating that drones remain within the line of sight of their operator.
Reform to this bill continues apace. In May of this year, two U.S. senators, Cory Booker and John Hoeven, introduced the Commercial UAS Modernization Act, which among other things gives the FAA flexibility to make changes in the rules governing drone use.
It behooves anyone concerned enough about natural disasters — i.e., those in flood plains or tornado alleys — to pay attention to the direction of private drone ownership and use regulations. Just owning one won't be enough; it will serve better if you are skilled in its use, and can minimize the chance that your using it hurts organized relief efforts.
Playing within the rules is essential, even if, in a disaster scenario — say, a flood — when an individual is stranded, all legal bets will be off. For as it says in Revelations, a drone carrying a fig leaf back to the stranded survivors of the Second Great Flood will tell the world the waters have abated…
Or not.