5 Pocket-Sized Gadgets That Make Life Easier
These are gadgets are small enough to go without you anywhere--and will make your life so much easier.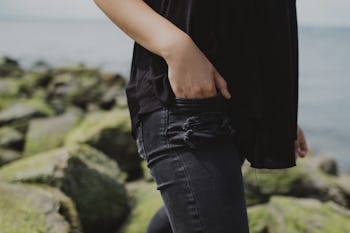 Unsplash / Julian Santa Ana
There's a joy in having the stuff you need when you need it. When you're home, if you're prepared, you're likely to have everything you could ever want, but when you travel, camp, commute, or are otherwise away from your home and your things, you might find yourself a little less prepared than you'd like. Enter the future of pocket sized gadgets: the things you may not have known you needed are not only possible, they're readily available.
From credit card-sized multitools to a projector that fits in your pocket and a keyboard that folds up in thirds for easy travel anywhere you might need it, the future has arrived and it is accessible. Not only will these make your life easier any time of year, they also make great stocking stuffers, gifts to coworkers and neighbor kids around the holidays.
Below you'll find the 5 pocket sized gadgets that'll make your life easier and if that's not easy enough, they're available on Amazon.
Why We Picked It: Made from 4 times heat treated steel, the only reason you'll buy another one is to give one to everyone you know. With 18 tools in one, this pocket multi tool includes four different kinds of screwdrivers, letter opener, nail puller, inch ruler, centimeter ruler, bottle opener, can opener, box opener, fruit peeler, 6 hex screws and a cell phone stand. Take it camping, keep it in your car, never leave home with it.
Why We Picked It: Compatible with virtually all devices, including your laptop, cable box, DVD player, tablet, digital camera, gaming consoles, smartphones and anything with an HDMI port, this portable projector weighs less than a half a pound and packs a punch. Supporting full HD video with up to 70 percent brighter image and 50 percent sharper image, you can broadcast anything you want, anywhere you want in fantastic quality. The built-in rechargeable battery makes it totally wireless.
Why We Picked It: Who doesn't have a science lover in their midst? For the perfect gift to yourself, a friend or a coworker, this pocket sized microscope is an Amazon best seller. Bought and reviewed by nearly 3,000 people, this microscope is designed to be portable, compact and easy to use. It has an aspheric lens that results in a crisper image for viewing.
Why We Picked It: Have you ever been in the car, at the office, or camping, ready to dive into some snacks, only to find out you don't have anything to eat with? Never be without flatware again with this foldable spork and tactical knife combo. Constructed from high quality polymer plastic, unlike disposable cutlery, you won't end up with broken pieces of plastic in your food. Designed to be lightweight, you can put it in your back pocket, desk drawer, or backpack without ever even knowing it's there—until you need it.
Why We Picked It: Some things just require a keyboard. When typing long emails, logging into your Slack channel from the airport, or making sure you finish your essay on time, this trifold keyboard is the perfect on-the-go solution for getting things done from your phone or tablet. Sync to three devices at once via Bluetooth and with universal compatibility, you can do it all. The built-in rechargeable battery has up to 60 hours of working time and 90 days standby time, so this isn't the kind of device that'll die on you in the middle of an important project.