Is phone typing speed faster than a laptop? A study on 37,000 has an answer
Get those fingers moving.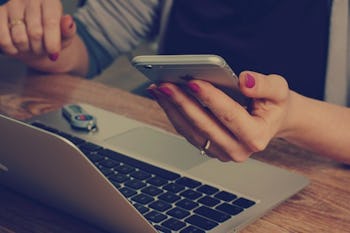 Pixabay
It looks like people are getting pretty good at typing on their phones. A new study claims that typing speeds are now nearly as fast on phones as on traditional computer keyboards.
The researchers had 37,370 volunteers participate in an online typing test, and were surprised to find those who who used two fingers to type on their phones were only 25 percent slower, on average, than people who were typing on a keyboard. The study will be presented Wednesday Taipei, Taiwan at the 21st International Conference on Human-Computer Interaction with Mobile Devices and Services.
The traditional keyboard on your laptop or desktop computer still reigns supreme, but that may not be the case for long.
Study co-author Anna Feit, a researcher at ETH Zürich, the STEM-focused university in Switzerland, said in a statement the finding was "amazing."
"We were amazed to see that users typing with two thumbs achieved 38 words per minute on average, which is only about 25 percent slower than the typing speeds we observed in a similar large-scale study of physical keyboards," Feit said. "While one can type much faster on a physical keyboard, up to 100 words per minute, the proportion of people who actually reach that is decreasing. Most people achieve between 35-65 words per minute."
If you want to try the typing-speed test used by the researchers, you can have a go at http://typingtest.aalto.fi
The researchers believe people are getting much better at typing on their phones because they use them so often. They found participants reported spending around six hours a day on their phones.
"Such large amount of experience transfers to the development of typing skill and explains why young people, who spend more time with social media, communicating with each other, are picking up higher speeds," Feit reasons.
(It is clear to me that I was not involved in this study, because I'm pretty sure I type about a word every 10 seconds. I have large hands, so I only use one finger, which actually is an issue that is addressed in the study.)
The researchers found nearly 75 percent of the participants used two thumbs to type, which had a significant impact on their ability to type quickly. They also found auto-correct helped increase up typing speed, but word completion slowed them down.
"The given understanding is that techniques like word completion help people, but what we found out is that the time spent thinking about the word suggestions often outweighs the time it would take you to type the letters, making you slower overall," Feit says.
See also: Survey Reveals How Common It Is to Send Embarrassing Texts While Asleep
The least-surprising aspect of this study is that they discovered — and you won't believe this — that young people type faster than older people. Specifically, the researchers found people between the ages of 10 and 19 typed about 10 words per minute faster than people in their 40s.
So there you have it: If you want to type quickly on your phone, use two thumbs, use auto-correct, don't be old and don't have my big, stupid hands.
Abstract:
This paper presents a large-scale dataset on mobile text entry collected via a web-based transcription task performed by 37,370 volunteers. The average typing speed was 36.2 WPM with 2.3% uncorrected errors. The scale of the data enables powerful statistical analyses on the correlation between typing performance and various factors, such as demographics, finger usage, and use of intelligent text entry techniques. We report effects of age and finger usage on performance that correspond to previous studies. We also find evidence of relationships between performance and use of intelligent text entry techniques: auto-correct usage correlates positively with entry rates, whereas word prediction usage has a negative correlation. To aid further work on modeling, machine learning and design improvements in mobile text entry, we make the code and dataset openly available.