The Best-Reviewed Motorized Scooters on Amazon
Upgrade your eco-friendly commute with a top-rated electric scooter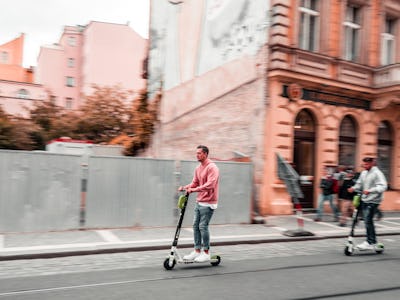 Unsplash / Marek Rucinski
What's the best way to get around town when you need transportation but you don't want the expense of a car? You could opt for a bicycle, but they're not always convenient. What if you could steer something powered that doesn't take up too much space? If you've been thinking of getting a motorized scooter, but weren't sure of which one to get, we rounded up the best-beloved electric scooters you can find on Amazon.
The Razor is one of the most popular scooters on Amazon, and is even rated as an "Amazon Choice." The affordable scooter features an extended ride time and can reach speeds of up to 10 miles per hour. It's a great option for people who don't want the hassle of messing with chains or maintenance. The Razor electric scooter is ideal for young riders and those up to 120 pounds. You can get up to 80 minutes of continuous riding and the scooter comes standard with a push-button throttle, hand-operated front fender brake, battery charger, and a retractable kickstand.
If you need a space-saving design, then the Glion Dolly electric scooter is the right choice. This adult-friendly scooter folds down and is self-standing for easy storage in the corner of your office or coat closet—making it an ideal option for commuters. The Glion model can be fully charged within three and a half hours and reaches speeds of up to 15 miles per hour. The model is also easy to use, doesn't require grease or gears, and features front fork suspension for a smooth ride. The Glion Dolly scooter is rated for riders up to 255 pounds.
When you have a scooter, you don't want to be left on the side of the road because your battery died. The Xiaomi Mi electric scooter features a long-range battery that promises up to 18.6 miles of use when fully charged. Like the Glion Dolly scooter, this option also features a foldable design for quick and easy storage. Reach speeds of 15.5 miles per hour and enjoy a responsive brake system that can stop within 13.1 feet of applying the brake. The Xiaomi Mi electric scooter is an award-winning option that received the Red Dot "Best of the Best" Award and the iF Design Award in 2017.
Some people prefer to control everything through their phone. And if this sounds familiar, the Swagtron high-speed electric scooter comes with a proprietary app that lets you remotely check battery life, tire pressure, and even activate cruise control. The scooter offers other popular features like a foldable and lightweight design. When fully charged, you can travel for distances of up to 12 miles. Hit speeds as high as 18 miles per hour and you can top inclines as steep as 20 degrees. Riders of up to 320 pounds can enjoy the Swagtron electric scooter.
Segway is a brand that many people are familiar with, especially in the scooter category. Although the Segway Ninebot ES4 electric scooter is a pricier model, it comes with a dual-battery system, meaning you can extend your travels without being sidelined. Reach top speeds of up to 19 miles per hour and travel as far as 28 miles on a single full charge. While the Segway also features a folding design, what sets it apart is the LED display screen for speed and battery life, Bluetooth pairing functionality, cruise control, front and rear wheel shock absorption, and ambient light settings. The scooter is lightweight at under 30 pounds and can comfortably accommodate weights of up to 165 pounds. Another bonus is the proprietary app that not only indicates battery life and speed, but can be used to remotely activate the anti-theft technology.
Why should adults have all the fun? The HOVERSTAR kick start scooter is a smart and affordable option for your little ones. The scooter can reach a maximum speed of six miles per hour and cover distances as far as five miles on a single charge. The scooter can support weights of up to 120 pounds and features a responsive braking system. Best of all, assembly is quick and easy—and is estimated to take no more than 10 to 15 minutes to complete.