Best PS4 Headsets Under $100
These sound so good, you'll forget where you are.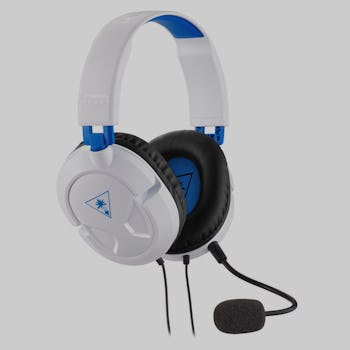 Amazon
Here's a fact: good audio makes every media experience better. It heightens every experience, and gives you a soundtrack to your daily life. I'll admit that I live in my headphones: I wear them when I head to work on the train, and I love that I can listen to podcasts while waiting for my clothes to finish their cycle at the laundromat.
What I don't appreciate are the crazy high prices most headphones and headsets come at. I saved for weeks before finally getting my hands on a solid pair, and while it was well worth the price tag, I would've loved them just as much with a 20% discount.
For me, good audio brightens my day by tuning everything out. It helps my mind wander and unclench from the day-to-day struggles. I couldn't work out without it. So trust me when I say I know how important audio is to the gaming community: You can't really lose yourself in the action if you hear your roommate vacuuming the whole time.
So we took the challenge of sourcing the best quality PS4 headphones that each ring in at less than $100, because perfect sound shouldn't run over 3 figures. Check them out below!
With some of the best surround sound on the market in its price point, the RUNMUS gaming headset is equipped with 50mm audio drivers to deliver supreme quality. The audio drivers are highly responsive to your gaming system, so it isolates and distinguishes which direction the noise is coming from in the game. It has self-adjusting padding headband and all-cover ear cups with soft memory foam and is made with a light 12 oz material for no pain. It works on PS4, PS3 (although an adapter is needed), PS vita, PSP, Xbox One, Nintendo Switch (audio), Nintendo New 3DS LL/3DS (audio), Nintendo 3DS LL/3DS (audio), Windows PC, Mac OS PC, iOS device and Android device. With a 12 year warranty and 100% money-back guarantee, why not?
Ranked as one of the best cost-efficient headsets, the Ear Force Recon 50P has both Microphone Mute and Master Volume installed, so the high-sensitivity adjustable boom microphone can be used for in-game and online chat, and then removed when listening to music and watching movies. The Ear Force Recon 50P connects directly to the PlayStation 4 controller, as well as PS Vita, PC, Mac, and mobile/tablet devices. It also works with the Xbox One, so between these features and the $29.95 price tag, hurry up and buy!
Just saying the word "Nintendo" gives me the happiest nostalgia. Enjoy surprisingly great sound from this budget option. 360-Degree stereo surround sound lets you feeling the movement of enemies at any time, Whether game or music, it's an excellent match. The Beexcellent Gaming Headset works with PlayStation 4, new Xbox One, PC, Nintendo 3DS, laptop, PSP, tablet, iPad, computer, mobile phone. Multiplatform for your maximum enjoyment without breaking the bank. It is crafted with an ergonomic design and breathable earmuffs. It also comes with an installed microphone that cancels noise and has one key mute and volume control. With a 100% money-back guarantee, this is a no-risk purchase.
HyperX Cloud Core has leatherette memory foam ear pads and a super-soft padded leatherette headband for maximum comfort, even when you're stuck in an endless battle. It delivers ear-pleasing performance with crystal-clear lows, mids, and highs, enhanced bass reproduction, and the same audio specs as the award-winning HyperX Cloud headset. It's pro-gaming optimized, with a detachable microphone and the distinctive HyperX design, and TeamSpeak certified.
Equipped with a USB audio controller, the Razer Kraken Tournament Edition gaming headset delivers a luxury experience plus full controls for audio personalization. It comes with a built-in Digital-to-Analog Converter (DAC) that delivers sharp audio sounds while THX Spatial Audio helps immerse you in a 50 mm sound. For communication, it has game chat features installed and separates itself from competitors with headphones made from a soft cloth and leatherette combination.