This Is the Best Streaming Webcam Under $50
When your computer's built-in webcam isn't cutting it, this affordable webcam will do the trick.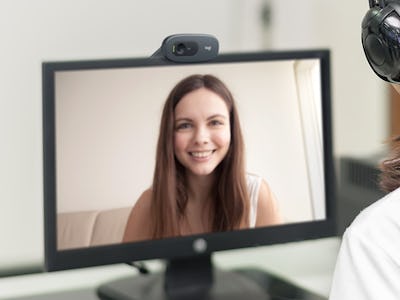 Logitech
If you're into gaming, chances are you started watching at least a couple YouTube videos of other people gaming. From there, you probably got into watching Twitch streams and before you knew it, you took up interest in doing it yourself. But what if your computer's built-in webcam is of terrible quality? What if it rarely connects and stays connected? What if you're working off a gaming CPU that doesn't have a monitor with a built-in webcam like many laptops? What are your options then?
A quick search on Amazon will return thousands of options, and it's easy to be overwhelmed. Many of these options have prices well into the $100 rang,e and if you're not 100 percent sure that you're going to be a lifelong Twitch streamer, you might not be so gung-ho to make that investment. But stop your worrying: I've found the absolutely best streaming webcam available on Amazon for under $50.
At its regular price, this Logitech HD Webcam costs only $40, but at its sale price point, you can get it for a steal at $20. Given an average of 4.5 stars by 3,085 reviewers, this webcam streams reliably in 1280 x 720 pixels thanks to Logitech Fluid Crystal technology for the clearest video definition every time. With a built-in microphone that reduces surround sound, this webcam stacks well against much of the competition because it doesn't require to you to make an additional purchase to use it for what you intend. Not only that but you can take Crisp 3 MP still photos, which lends itself well to the at-home convenience of taking your own headshots, LinkedIn profile picture or just a selfie when you're feeling yourself.
So let's talk specs beyond the obvious crystal clear video, this webcam allows you to stream live, video chat, record yourself in video or in stills and will automatically correct the ambient light and white balance to deliver the best image possible at all times. To use it, all you need is a sytem running Windows 8 or later or macOS 10.10 or later. It works best when you use Chrome as your browser and you do need to have the obvious 200MB of remaining harddrive space and a stable internet connectin for it to perform to the best of its ability.
Installation is as easy to plugging in a USB cord and using the convenient built-in clip mechanism to attach your webcam to the desired angle. So if you're curious about becoming the next great YouTube star, have gotten a new job that requires you to video chat with co-workers and collaborators often or want to get into your own brand of gaming streaming, you shouldn't look further than this amazingly affordable all-in-one webcam from Logitech.