7 Awesome Bluetooth Headphones That Are on Sale
Embrace Wireless Listening With These Premium Bluetooth Headphones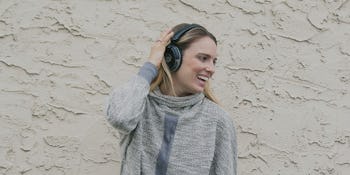 StackCommerce
Once you go wireless, you'll never go back. Listening to your favorite music in crisp Bluetooth audio is a life-changing experience. With a good pair of Bluetooth headphones, you can get the same fidelity as a wired experience but with so much more comfort and freedom of motion. Here are seven pairs of awesome Bluetooth headphones that are now on sale, so you can grab a pair and say goodbye to tangled wires.
Sennheiser is known as one of the top audio manufacturers, from headphones to microphones to speakers. The Momentum Frees are their most compact Bluetooth headphones, and they feature a comfortable ergonomic design, six-hour battery life, and an integrated microphone. You can get the Sennheiser Momentum Free Wireless Bluetooth Headphones for $199.99. These also come with a luxurious leather case, adapter set, and USB charging cable.
When you're listening to music in a noisy environment, regular headphones just won't do the job. These 1Voice AXR Bluetooth Headphones feature active noise-cancellation that eliminates 90% of outside sound so you can enjoy an immersive listening experience. Perfect for listening during a trip on a plane or bus.
Plus they'll last you up to 12 hours on a single charge, and you can also use a 3.5mm jack so you can go wireless or wired. They're normally $199.99, but right now you can get a pair of these bluetooth noise-cancelling headphones for $49.99. That's a 75% savings.
When you want heavy-duty noise cancellation look no further than Culture Audio. These Bluetooth headphones feature 98% active noise cancellation. Plus these headphones include smart sensors so you can automatically pause and play music just by removing your headphones.
Culture Audio V1 headphones also include dual omnidirectional mics so you can use this pair for crystal-clear phone calls. Culture Audio V1 Noise-Cancellation Bluetooth Headphones normally cost $200 but now you can grab a pair for only $135.
When getting a new pair of bluetooth headphones, you've got to factor in the deal—and these 1VX Bluetooth Headphones are hard to beat. This pair is 74% off the usual price of $99 so you can get a pair for only $24.99. This is a solid pair of headphones that include a build-in mic, 6 hours of play time, and crisp Bluetooth performance for a formidable and freeing wireless experience.
These Cowin E8 Noise-Cancelling Bluetooth Headphones deliver comfort and a powerful performance. The cozy and soft cushions on these headphones mean you can listen as long as you want without strain, and with its massive 20 hours of battery life you can take your time finding a place to charge. These headphones are great for travelers who spend a lot of time on the road between trains, planes, and buses and never know when they'll run into their next dedicated outlet. The Cowin E8 headphones normally cost $199.99, but right now they're 32% off so you can snatch a pair for $134.99.
These stylish Z3N Bluetooth Headphones come in a cool blue color and sport a 33 foot Bluetooth range. They're also available right now for a huge discount of 76%, so you can get a pair for just $20.99. This pair has all the features you'd expect in higher-cost premium headphones but for a tenth of the price!
For audiophiles, quality is king. There's no replacement for crisp and clear music, and T7 Blast High Fidelity Bluetooth Headphones easily deliver. With powerful 57mm drivers, noise-cancellation technology, and 10 hours of battery life on a single charge, these headphones are fully stacked with some of the best you can get in modern headphones. They're normally $149, but they're on sale for $49.99—that's a 66% price cut on ultra-premium Bluetooth headphones.
Like this deal? Check out Vault—you'll get four premium tools, including NordVPN and Dashlane, to supercharge your online security. Try it free for 14 days now!
Prices are subject to change.