5 Desk Accessories You Didnt Know You Needed
Dress Up Your Desk With These Cool Gadgets For Your Home & Office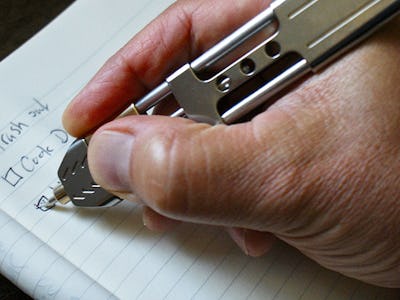 StackCommerce
When you spend your day working at a desk it quickly becomes your second home. So why not deck out your workspace with some cool and useful accessories? These 5 desk accessories will boost your productivity and your happiness by turning your drab and dreary desk into your fun little second home.
MEMOBIRD Mobile Thermal Printer
If you're working at a desk it's probably littered with important notes and reminders. MEMOBIRD is a personal note printer that makes it easy to create paper notes whenever you want. It uses thermal paper and prints text, handwriting, photos, pictures and more without using ink. You can print from your phone, tablet or computer with or without an internet connection. This great little compact device is on sale for 25% off, so you can get this mobile printer for just $59.99.
TEC Accessories Ko-Axis™ Rail Pen
When you're scribbling notes or jotting down your thoughts, comfort is key. The Ko-Axis Rail Pen is an innovative and ergonomically designed pen that delivers unparalleled writing comfort. You can easily refill ink with its no-tool refill replacement method, so you can use this pen for a long, long time. When you get your hands on the Ko-Axis Rail Pen you'll wonder why you didn't convert sooner. You can grab one now for $129.
TEC Accessories The Orbiter™ Pinstripe Magnetic Fidget Device
Even the most focused and productive people need to take a break every now and then. Grab a magnetic fidget device and de-clog your brain with its relaxing and repetitive movement. Just a minute or two of playing around with this fun device and you'll feel refreshed and relaxed. Plus, it's usually $68 and is now on sale for just $29.99. That's 55% off the normal price.
EvaChill EV-500 Personal Air Conditioner
For smaller rooms like a home office it just doesn't make economic sense to install a huge window unit air conditioner. But when you need a powerful and reliable cooling solution you should check out the EvaChill EV-500. It's eco-friendly and bio-safe, using just cooling pads and water to drop air temperature up to 59º in just 10 minutes. This portable little air conditioner is great when you need a chill working space, and it's on sale for only $79.
IPM Q102 Wireless Charging Station
With all the devices you need to live a full and productive life, your desk area can easily become a cluttered mess of wires and cables. Declutter your desk with this sleek IPM Wireless Charging Station. With its innovative 3-in-1 design you can wirelessly charge your smartphone, wireless earbuds and smartwatch. Plus it comes with a 10W charge controller so you can power up your devices at optimal speeds. It's on sale for 53% off so you can declutter your desktop and enjoy wireless charging for only $69.99.
Like this deal? Check out Vault — you'll get four premium tools, including NordVPN and Dashlane, to supercharge your online security. Try it free for 14 days now!
Prices are subject to change.