Take This Portable Espresso Maker With You Everywhere
With this incredible gadget, you can enjoy great espresso anywhere in the world.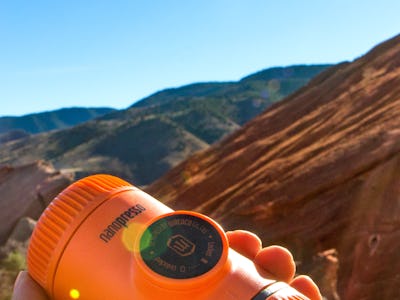 Wacaco Nanopresso
I'm an unbelievable coffee brat. I won't sleep anywhere but my house unless I can guarantee on-demand access to my espresso drink of choice. Usually that means waking up, getting ready and showing my face at the nearest Starbucks, which is a lot more than my usual roll out of bed and press a button on my espresso machine routine. So, when I discovered the Wacaco's Nanopresso, I was immediately shook.
This meant I could continue feeding the coffee brat in me without dragging my sleepy body anywhere further than the bag I store the Nanopresso in. Brought to my attention by a fellow gadget-friendly coffee lover, I lusted after the Nanopresso for years before I finally adopted it and folks, let me tell you. I've never looked back.
At only 6.14 inches in height and less than a pound in weight, the Nanopresso is the utmost in espresso portability, so it won't weigh you down or clutter your bag. The Nanopresso's water tank holds up to 80 milliliters of water and the insulation factor allows you to come back and have another shot without having to refill the water tank first. After filling it with boiling water, all you have to do is add your favorite coffee roast—and if you prefer the convenience of pods, you can purchase the NS-Adapter—and then pump manually to deliver the perfect shot of espresso into the included shot cup or your preferred cup or mug.
With no need for batteries or electricity thanks to the amazing manual pumping function, the Nanopresso is the perfect addition to your hiking pack or emergency kit, so that even in the most primitive of situations, you are still privy to the necessary espresso. Not only great for travel and camping, the Nanopresso finds the perfect home in your desk drawer at work, where they just can't seem to make good coffee. And if you like to show off, take your coffee and kettle on the road to your next tailgate and serve up espresso to fellow fans after a day of drinking.
And that's all there is to it, but it's the kind of thing you have to see to believe. With the help of the newly patented manual pumping system, the Nanopresso can reach up to 18 bars of pressure—more than what most at home espresso machines can accomplish—and deliver you the finest brewed espresso you've ever had. At only $63, it's a great investment.