This Outdoor Pizza Oven Will Transform the Way You Eat Pizza Forever
Not just for pizza, this outdoor oven will open up a whole world of possibilities.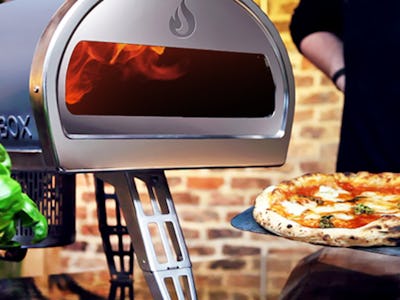 Gozney
At the beginning of this year, my partner and I moved. We lived in a neighborhood for years that once had good pizza and then at some point, everyone changed their recipes for the worse, so when we moved we had renewed hope that we were moving into a neighborhood full of good pizza. But, my partner started working in a pizza shop before he even got his drivers' license and my father has been making the best boardwalk pizza I've ever had for more than twice as long as I've been alive. Naturally, we're pizza brats and have been left to live in another neighborhood that doesn't meet our pizza needs.
So when I discovered Gozney's Roccbox, my eyes lit up with joy. My partner and I have tried to make pizza on a grill, while camping, in the oven and at most parties we've been invited to. While we've come up with some almost-there pizzas, every set of circumstances has come with its own set of challenges and it was difficult to perfect the perfect pizza with so many variables. But Roccbox makes things easier than ever.
Complete with two included detachable burner attachments, you can choose between wood fired or propane powered pizza making. With a built-in ceramic hearth, you don't even have to get a pizza stone to obtain the perfect crust. Designed to be portable, Roccbox weighs 44 pounds and comes complete with a heavy duty velcro strap for easy carrying to the beach, your next camping trip, party or tailgate. The retractable legs lend themselves further to the portability and safety of the oven. Unlike many competing pizza ovens that get to sky high temperatures, Roccbox features body insulation for easy and steady temperature control and an ever-necessary outer silicone skin so that you're never burning yourself with an accidental touch.
Setting it further apart, Roccbox has an easy to read built in temperature gauge that allows you to find and maintain your perfect temperature for making the ideal pizza every time. Able to heat up to 932ºF, Roccbox achieves temperatures that were otherwise impossible under safe conditions in a home environment. To achieve such temperatures, all you have to do is set up your oven with your preferred fuel source—I've found propane to be the easiest and much less work—and give it about a half an hour to come to temperature.
After that, you can make pizzas—and a whole host of other restaurant quality meals—in under 60 seconds. When making a pizza, just make sure to rotate it after about 30-45 seconds for an even cooking experience because Roccbox's heating element is located at the back of the oven. Happy cooking!