Missed Prime Day? Check Out These 5 New Deals in the Inverse Shop
Save Money After Prime Day On These Cool Products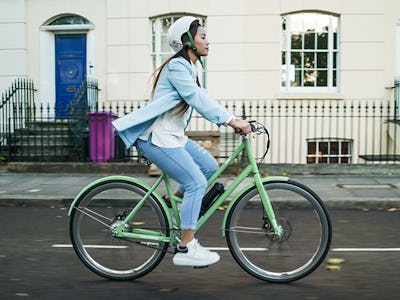 StackCommerce
Why wait all year for one day of deals? Due to the nature of sales, low prices can always be found when a company decides it's time to move its merchandise. So maybe Prime Day is over, but deals are always out there. Here are 5 great new deals featured in the Inverse Shop that'll keep saving you money no matter what day it is.
Biking can turn a commute from a slow, irritating slog into an invigorating breeze. This Analog Motion E-bike packs enough power for 20 miles of easy assisted riding so you can get where you're going without breaking a sweat.
The Analog Motion E-bike sports a super lightweight frame and charges in just three hours and the electric motor is compact and hidden so it's perfect for commuters. You can grab one today and save 8% for a sale price of $1,449.
Classic Cuisine Immersion Blender 4-in-1 Hand Mixer Set
Here's a versatile 4-in-1 blender that's available with a huge 41% discount. The set includes a hand blender, whisk, food processor cup, and 32 oz beaker so you have everything you need to make salsa, milkshakes, smoothies, whipped cream, pesto and more. Best of all, you can get it for only $34.99.
Whirlwind Cool Blade-Less Mini Fan
Here's a cool rechargeable mini fan you can take anywhere. It's lightweight, portable, and includes 3 fan speeds. What makes this fan really cool is that it includes a USB charging cable so you can charge your phone using your fan. It's usually $59.95, but after a massive 63% price drop, you can get this fan that recharges your phone for just $21.99.
Easehold Dual Speed 600W Juicer
One great way to save money is to stop visiting that hip juice place across town and instead make your own fresh juices at home. This 600W juicer extracts more juice, vitamins, and minerals faster than other juicers. Plus it's easy to take apart and clean. Right now it's on sale for 23% off, so you can turn your kitchen into a healthy juice bar for just $47.99.
Night Provision Proton R60 Motion-Sensing Bike Brake Light
This motion-sensing brake light for your bike isn't just a good deal, it's also a great way to improve safety when you ride the roads. This light auto-senses the change in motion whenever you brake and lights up in the same way a car brake light does. You can get it for 48% less than the usual price for only $24.49.