This Genius App Is Changing the Tech Behind Remote Team Communication
The perfect app for remote teams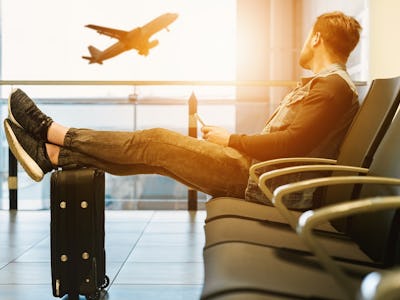 Eko
Communication is vital for any company to work efficiently, so a platform that empowers communication and encourages collaboration will have a major impact on efficiency. But there are countless solutions that cover only a few aspects of internal communications and people management.
For example, messaging apps like Slack are great because they allow your employees to chat with their personal devices, making collaboration easy. However, you'll likely need dozens of third-party integrations for this app to work the way you'd like—or do things like submit expense reports. It would be far more efficient if there was one unified platform to handle all of this at once.
Enter: Eko. The Eko app unifies your communications and engages your employees while offering mobilized HR functions and unparalleled security. Best of all, your employees can access Eko straight from their mobile devices, making it the ideal solution for hospitality, retail, or any industry that values communications while on the go. Here's what makes it different:
Empower Communications & Engage Employees
With Eko, coworkers can chat 1-on-1, create group chats with their colleagues, make voice and video calls, and send files, photos, and videos. Teams can organize their communications further by creating chat threads centered around specific discussion points. Plus, all employees can be found in the company directory, making it easy for teams to reach out to one another no matter where they're physically located. Eko even features in-app translation, so your company doesn't have to worry about language barriers while collaborating across multiple countries and languages.
Workflow Management
Eko lets you send tasks and initiate workflows via chat, and employees can use Eko's search functions to find project details, files, and coworker information quickly and easily. Tasks, checklists, and priorities can be created within Eko with due dates and times, which your employees can track through their to-do lists. Eko even lets you convert messages into tasks, so if a quick errand needs to be handled immediately, a manager may send out a message that can be addressed by someone on their team.
Wealth of Knowledge
Information is power, and the better versed your employees are on company policies, the more effective they will be when serving your customers. Eko allows you to create a library which hosts all of your company's latest documentation, policies, and resources.
You can create quizzes based on your documentation, which makes excellent training material for new employees. Whenever a new person joins your team, they can study and quiz themselves with Eko to quickly get up to speed with their peers. Furthermore, you can use Eko to create polls for your employees to vote on in just one click.
Unparalleled Security
Vast amounts of company and employee data can be sent using Eko, so you're probably wondering how this information will be protected. Eko encrypts all messages and files sent and received, so you can rest assured that confidential information will be kept secure. Your employees' personal data is of utmost importance, so all Eko communications are GDPR compliant. Furthermore, Eko offers admin controls that will allow you to set up permissions so that only specific users can access certain features or information.
Upcoming Features
Eko offers your teams a wide range of communication and collaboration features, but that's not all! A ton of new features will be released this fall, including recruitment management, 360 staff evaluations, employee onboarding and offboarding, and calendar schedules and shifts. These new features will make it easier than ever for HR teams and managers to manage the recruitment process and delegate assignments.
Eko is a Swiss army knife in the collaboration space
Juggling multiple tools to manage your employees will inevitably lead to hiccups that hinder your overall efficiency. Eko eliminates this by unifying your communications and people management, and your team can sign up for a demo here.