Struggle to Drink Enough Water? Try This Innovative Water Bottle
Flavor your water without all the extra stuff.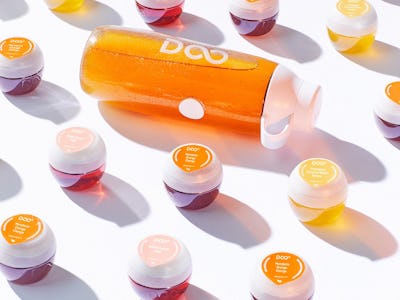 Amazon
Hydration is important but if you grew up drinking too much soda or you just tend to prefer sugar-y and flavored drinks to "plain water," you've probably found yourself struggling to stay hydrated. You're not alone. I have friends and in laws and a father who would rather bring a cooler of Powerade on a hike than even consider packing a water bottle. But that doesn't mean they—and you—need water any less than any living thing.
Drinkfinity proposes an innovative solution to all your hydration needs. With a reusable, durable plastic water bottle and revolutionary pod flavoring system, you can stop banking on the possibility of a vending machine and start carrying your new favorite drink everywhere you go.
Made with 65 percent less plastic than competing 20-ounce water bottles, the Drinkfinity Reusable Water Bottle is BPA free and includes a convenient side magnet for keeping the lid in place when you're drinking from the mouthpiece. All you have to do to prepare the flavored water beverage of your choice is select one of the many pod options available, remove the lid and underlayer piercer, peel the pod open and pop the flavoring into the vessel below.
Drinkfinity pods are enriched with natural caffeine sourced from green coffee bean extract, vitamins and fiber, as well as electrolytes and relaxing botanicals. Available flavors include White Peach Chill, Lemonade Renew, Mango Chia Flow, Açai Charge, Berry Lemonade Renew, Lemon Spirulina Flow, Pomegranate Ginger Flow, Oatberry Flow and more. Pods come in packs of 12 so you can place orders of multiple packs of pods for added variety in your hydration regimen.
All Drinkfinity water bottles are made from impact resistant and dishwasher safe plastic so clean up and maintenance is a breeze. While Drinkfinity offers a wide variety of flavors, they're always natural, high-quality ingredients that are never artificially sweetened.
So, not only are you consuming more water with Drinkfinity flavored water options, you are ditching all the empty calories and sugars found in juices and other sugary drinks you're drinking in place of water. By drinking more water, you'll find yourself filling fuller longer, your skin will look more supple, your breath will smell fresher and countless other benefits of living a well-hydrated lifestyle. Thus the case for switching to Drinkfinity is strong.