3 Extension Cords You Need to Keep Your Tech Organized
Time to Uncross those Wires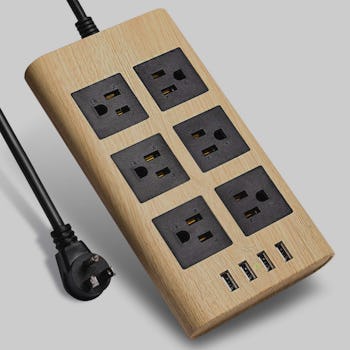 Amazon
It is Summer 2019, and I don't know one person who only has only one device that needs to be charged. That is the new normal for tech; companies are working to integrate their products for both user convenience and to promote the collection of devices that can work together seamlessly. Most users happily benefit from smart tech integration, but almost all of them notice that pileup of cords and chargers that come as a result.
The obvious solution? Power strip cords! These have been around for decades, but every now and again we launch a PSA supporting the devices that help you organize your tech. Below, here are three different types of power strips you can buy to clean up your space and de-wire your life:
While the 5 ft braided extension cord was the first thing to catch our eye, the One Beat power strip comes with so much more. It features 3AC outlets and 4 smart USB ports, which can support a total of 7 different devices, like iPhones, iPads, laptops, wireless headphones, and much more. The compact size of the port makes it approximately the size of the palm of your hand, ideal for travel on on-the-go charging. With a 100% Satisfaction Guarantee, what's stopping you?
As fellow nerds like myself remember from grade school science: wood does not conduct electricity. That's the key feature in the SUPERDANNY power strip, where the outlets are encased by a wooden, flame retardant design that prevents any electric fires from starting. With 4 USB ports as well as 6 outlets, the SUPERDANNY strip doesn't sacrifice utility for safety. Plus, it comes equipped with LED technology that gives you the option to power off automatically and has a whopping 9.8-foot extension cord. Adding to cart!
This is the power strip to end all power strips. If you're an avid tech user with an adventurous life and tons of gadgets or have a family who loves to stream and make phone calls simultaneously, The Belkin 12-Outlet Power Strip is for you. As the name states, you have a 12-outlet surge protector power strip with an 8-foot extension cord, making charging anything anywhere actually feasible. It also features a 4,320 Joule-energy rating and 6,000v maximum spike voltage, complete with surge protection to reduce the risk of spikes and surges with your devices. Can't be beaten.