How Bitcoin Can Help Bridge Afghanistan's Gender Gap
When only seven percent of women have bank accounts, bitcoin can empower them for the future.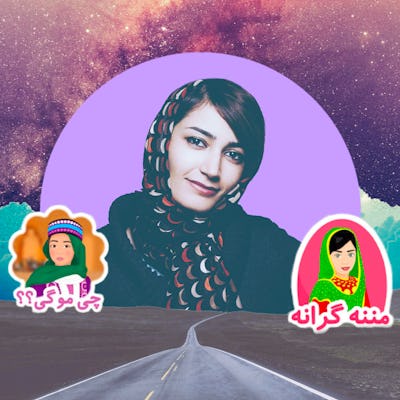 Natasha Chomko, aka, POST-WOOK, for Inverse
When New York-based entrepreneur and educator Fereshteh Forough wanted to pay young Afghan women to write blog posts and create videos, getting the money to these girls turned out to be easier said than done.
They were creating content as part of educational programs for Digital Citizen Fund (then called Women's Annex Foundation), a non-profit co-founded by Forough and Roya Mahboob with the mission of making more women in Afghanistan digitally literate.
PayPal wasn't an option for paying the students for their work — the payment system isn't available in Afghanistan — and Western Union transactions were quickly dismissed for their hefty international transaction fees.
So Women's Annex Foundation paid the girls in bitcoin. The experience turned Forough into an advocate for the digital currency and a believer that it could bolster economic empowerment for Afghan women.
Forough is now CEO of Code to Inspire, a coding school for young women in Herat, Afghanistan. One of the school's classes is devoted to blockchain and cryptocurrency. For her work, Forough is a member of the Inverse Future 50, a group of people who are poised to be forces for good in the 2020s.
"With only your email address, you can create a wallet, and you can start sending and receiving money," Forough tells Inverse. That ease of account creation is significant for women in Afghanistan, where banks often require them to have a husband, father, or brother co-sign when they create a bank account.
The practicalities of actually spending bitcoin, however, are limited for people in Afghanistan.
Afghanistan is a largely cash-based society, Forough explains. As of 2017, in Afghanistan, 23 percent of male adults own a transaction account, while only seven percent of female adults do, according to the World Bank. It's common for businesses there to only accept cash. Forough says there are not currently ways to cash out Bitcoin in Afghanistan. Even online shopping with the cryptocurrency is unattractive since decades of political unrest has left the country with a postal system that's still unreliable.
So, at the moment, Afghans are limited to using bitcoin as an investment. Forough explains that her advocacy for cryptocurrency is "more to educate our students about the technical aspect of it."
"Maybe [our students] will be able to come up with a solution and see how they can help the payment system in Afghanistan or any other areas where blockchain can bring significant change," she says.
See also: Code to Inspire Founder Fereshteh Forough Is Building "Afghanistan 2.0"
Fereshteh Forough is a member of the Inverse Future 50. Follow her on Twitter at @f_forough.