This Is the Key to Being Honestly Happy With Your Smile
Smile Direct Club delivers clear aligner system with no office appointments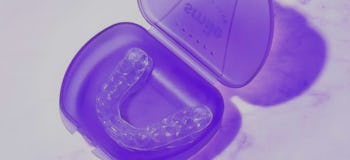 Smile Direct Club
Do crooked teeth or funny gaps keep you from flashing a full smile? Maybe you never had braces as a kid. Maybe you ditched your retainer the day the metal was removed from your mouth and have lived to regret it now that you're an adult.
Smile Direct Club provides a solution that doesn't involve endless appointments with the orthodontist and months of uncomfortable metal in your mouth. Smile Direct Club provides custom-made clear aligners that will gradually guide your teeth to perfect placement. The aligners are delivered to your door with no need to see a dentist.
How Does It Work? The process starts with a 3D image of your mouth so that the company can determine your current condition and what needs to be done. Smile Direct Club has some office locations, called SmileShops, where you can go to get the 3D image made, or you can order an at-home impression kit.
Once a Smile Direct Club dentist or orthodontist reviews your 3D image or impression, they'll complete a treatment plan and you'll be on your way to a new smile. All the aligners you need will be shipped to you at once, and the dentist in charge of your treatment will check up on you every couple of months to make sure everything's OK. Treatment plans typically last for about six months.
Smile Direct Club offers two options for payment — $1,895 if you pay up front, or a $250 deposit and $85 a month for 24 months, for a total of $2,290. That's about 60 percent less than you'd pay for aligners you get from your dentist, Smile Direct says. If you want a retainer to keep your perfect smile for the rest of your life (hey, you learned your lesson), it's only $99 more.
Some dental insurance policies will cover part of the cost, and Smile Direct Club accepts payments from health savings accounts (HSA), flexible savings accounts (FSA), and CareDirect.
Smile Direct offers a simple online assessment to see if you're a good candidate for their alignment system. If you're unhappy with your smile, that's the place to start.