Who Can Be an Inventor? Society Has the Wrong Idea About It
"Our job is to say that invention is a process that anyone can learn."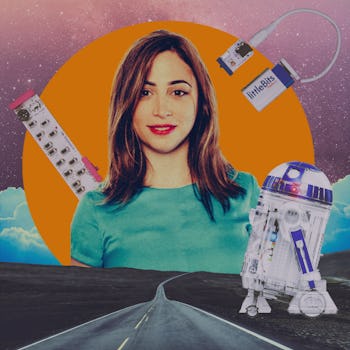 Natasha Chomko, aka POST-WOOK, for Inverse
Below is a portion of Inverse's interview with Ayah Bdeir, the founder and CEO of littleBits. Bdeir is on a mission to use her tiny, colorful blocks — which can be combined to create sophisticated droids, musical instruments, and circuits — to close the gender gap in science, technology, and engineering fields.
We sat down with Bdeir at the Toy Fair in New York City's Javits Convention Center to talk about her favorite childhood invention and what she thinks the future of engineering will look like.
See also: LittleBits' Ayah Bdeir Is Filling STEM's Diversity Gap, Block by Block
Inverse: What do you think the future of science and engineering looks like?
I think that we're going to see engineering more and more become a foundation for whatever you want to do with your life. You may not want to be an engineer. In fact, I don't want to create the next generation of engineers. That's not at all what I aspire to. That's not what littleBits is all about.
It's about technology literacy, it's about being able to tap into engineering when you need it.
It's about giving comfort to kids — and in the future, adults — that engineering can be a method, a toolkit, that you can learn from.
Whether you want to be in fashion or you want to be in art, or space science, or in robotics, or writing, engineering can be a useful tool to inform how you think and how you learn, and how you expand your horizons.
You've mentioned that society has preconceived notions about who becomes an inventor. What are those notions?
I think somehow society got it into its head that the inventor is a lone person. He's often a man, alone in a basement, who is socially inept or unable to communicate with others. They think that's what it takes to become an inventor.
The reality is that's not true. Inventors come in all shapes and sizes, all ages, all backgrounds. They speak all languages and come from all countries. Some people become inventors very late in their lives, and some become inventors when they're kids.
So our job is to say that invention is a process that anyone can learn. We think by doing that, we're going to be able to shed light on a lot of different profiles of people. We want more diversity, more inclusivity, and more representation. We want to invite more kids to become inventors.
What does it really mean to be an "inclusive" company?
Being an inclusive company isn't an afterthought for us. It's who we are. It's how we think. It's how we formed our team. We are in New York City for that reason. There's a reason we're not in Silicon Valley. We want to be in a diverse and representative community.
We want to get more girls into STEM, so we want our product to be gender-neutral, and want to get more kids of different ages into STEM. We really try to make it so there's fluidity across the age groups that we engage in. But we also want to make it accessible to kids who learn at different paces. For instance, maybe they're introverted; they don't like to learn in groups. We want inventing to be accessible to more kids so it's not something that becomes locked up and proprietary.
What was a great invention from when you were growing up?
I remember one moment that was pretty marking for me. My parents got us a Commodore 64 dot matrix printer and an application — it wasn't called an app then. But it was a software to make greeting cards.
I learned how to make greeting cards, and I became obsessed. I was making greeting cards and banners and signs for every occasion. Banners like "Welcome Home Mom!" Or on Tuesday, I would make one that says "Happy 4 p.m.!" or "Ayah's room here!" All these big banners or things to give away.
They were a chance for me to do some light programming, and it was also about decorating it and was also about drawing. I remember it being a pretty formative moment in my life.
This interview has been edited for length and clarity. Read our full interview with Ayah Bdeir.
Now Read This: LittleBits' Ayah Bdeir Is Filling STEM's Diversity Gap, Block by Block
Ayah Bdeir is a member of the Inverse Future 50.