These Are the Comfiest Shoes on the Market
You live your life on your feet, you deserve to be comfy while you do it.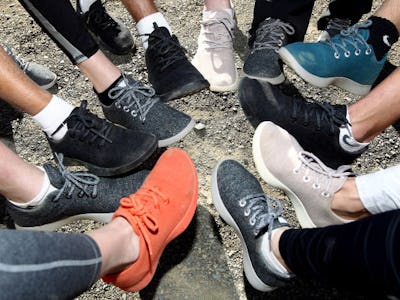 Allbirds
You may have seen Allbirds shoes coming up in your targeted ads on Facebook and Instagram. You may have investigated further, or you may have only started to get ads because you purchased another pair of shoes. Regardless, if you are living your life without a pair of Allbirds on your feet, you aren't really living life yet.
But what does that mean? If your current pair of go to sneakers is a pair of Nikes or Adidas, you are buying from a billion dollar corporation without any kind of genuine focus on sustainability, workers' rights or comfort beyond what they are able to market. Allbirds, created by New Zealander, Tim Brown, sets itself apart as a brand by making an entirely new category of shoes.
Not only are they beautiful shoes with a casual appearance that works in any setting—not just a gym—but the materials that build such a shoe come from a source of unmatched comfort and sustainability. Chances are, you've seen those blankets knitted out of huge spools of merino wool and if you've been lucky enough to actually snuggle with one, you must know that merino wool is an absolutely and completely lifechanging quality of comfort. What's more is that merino wool can be harvested reliably without a large ecological impact.
This commitment is reiterated in Allbirds status as a certified B Corp, which means they do business differently with a prioritizing values first, and in the case of Allbirds that specifically means a strong, and unwavering support of environmental justice initivates and a commitment to sustainability. So not only does Allbirds source from ethical merino wool farms, but all their packaging is 90% post-consumer recycled cardboard. And if you need even more to sell you on the brand, Allbirds partners with SOLES4SOULS® to help communities in need access good quality shoes so that even the most marginalized have supported feet.
So now that you know Allbirds is a brand with a conscience, let's talk shoes. All Allbirds shoes are free from flashy logos, unlike any competition, and come with a 30 day trial period where if you don't love them, you can send them back with no questions asked.
The Allbirds shop has robust shoe options including their lines of Runners and Loungers, both available in men's and women's styles. Wool is the aforementioned eco-friendly merino wool, while Tree offers a more classic mesh knit upper construction, frequently found only in athleticwear.
All Allbirds laces are made out of post-consumer recycled polyester derived from simple plastic water bottles. Eyelets found on the end of each lace are made from special microorganisms that consume plant sugar to produce both a more durable and eco-friendly construction. Not only that, but all Allbirds shoes are also machine washable and can be worn sockless.
Prefer a lace-free approach to your footwear? Allbirds has indeed thought of it all by including the Loungers on their long list of stylish and environmentally friendly offerings.
If your interest is piqued—or more importantly, you can't remember the last time you purchased any of your shoes, you owe it to yourself to check out Allbirds. For less than the cost of a pair of Nikes, you can have a pair of shoes that keeps you comfortable, minimizes your need for socks, can be thrown right in the wash and cares about our planet. As a consumer myself, I can't think of anything else I need to feel good about a purchase.