There's Finally a Mattress Made to End Back Pain
3 zones provide perfect support for shoulders, back, and hips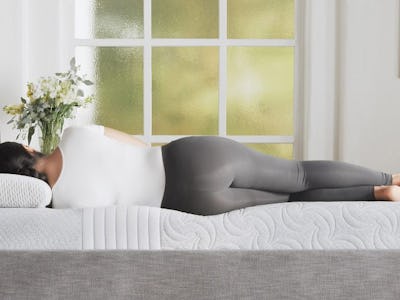 Sleep Level
The Level Sleep Mattress is designed to provide support for all parts of your body, thanks to a patented design that supports the body's contours and aligns your spine. Different areas of the mattress provide different levels of support, which leads to deeper, undisturbed sleep.
How It Works The support zone near the head of the bed is soft and lets your shoulder sink in if you sleep on your side. The zone near the center of the bed is firm to support your lower back and sides, and area where your hips and feet rest provides medium support, contouring to your hips and aligning them with your spine. This patented TriSupport system helps to reduce common causes of pain in shoulders, hips, and back.
The company spent a decade developing and testing the mattress. Clinical trials found people experienced a 54% reduction in morning stiffness when they slept on a Level Sleep Mattress.
It's made in the USA and all the foam used is certified pure of harmful chemicals, so you can sleep easy on that count, too.
You can try the Level Sleep Mattress at home for 365 nights before you decide if you want to keep it. If you're not convinced after that time, just send it back thanks to the free return policy.
If you love it and keep it, the Sleep Level Mattress is backed by a forever warranty.
Unlike some mattresses, the Sleep Level works with all bed types, including box springs, platforms, traditional frames, and adjustable frames.
Why not try the Sleep Level? There's nothing to lose but back pain.