VR Headsets 101
This beginner's guide will help you pick the best virtual reality systems for any user or platform.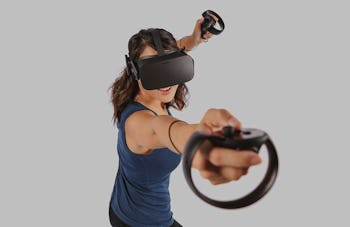 Amazon
So you want to buy a VR headset but have no idea which one to get, or what the differences really are. Whether you're planning on experiencing the deepest virtual worlds on a high-powered PC or just hoping to get a feel for what an immersive experience feels like using your mobile phone, we are here to help you jump into the very real world of virtual reality.
First you're going to have to decide where you'll be getting the content from. If you're a total VR noob, the simplest (and cheapest) option will usually be to use your mobile phone as the source. On the other hand, the more advanced VR user will usually want more computing power behind the experience, and can choose to experience VR either via a powerful gaming PC, a game console like Playstation 4, or even via a freestanding VR platform that includes the processor right onboard. Obviously, cost will be a consideration in the decision as well, as will the type of content you're hoping to experience.
Mobile: The Best Way to Get a First Taste of VR
Your mobile phone is the key to your first steps into the virtual worlds that are out there. Most smartphones are capable of taking you on a fun, fairly immersive journey if you know how to use them. And most mobile VR experiences can be had without much physical space: just you, your phone, a chair, and the right headset.
Best Google Cardboard headset The most basic VR platform is Google Cardboard. And despite its name, the options aren't just limited to the cardboard folded headsets you've probably seen distributed free at events and as promotional items. There are many Google Cardboard-compatible headsets available that add comfort, hands-free operation, and even integrated earphones. Even fairly sophisticated versions can be had for under $50 and will work with just about any mobile phone on Android or iOS. In fact, if you're an iOS user, then the Cardboard platform is your only mobile choice. The best of these Google Cardboard upgrades is the Pansonite headset. Featuring adjustable straps for hands-free use, and a complimentary remote (only compatible with older iOS versions) as well as integrated headphones, the Pansonite headset gives the feel of a more sophisticated headset at a low cost. And it works with most iPhone and Android models. It's also one of the few VR headsets that also support augmented-reality apps.
Most comfortable upgrade for Pixel users: Google Daydream View: Built primarily for Google's Pixel and Pixel XL phones, Google Daydream View ups the ante from their Cardboard if you happen to have a compatible phone. In addition to the standard mobile experience, the Daydream View offers some game-like aspects to add to the experience. Your phone fits inside the front of the unit. However, unlike some headsets (e.g. Samsung Gear VR), instead of snapping your device into a pair of clasps, your phone is held in place by fastening a stretchy band over a small gray knob on top of the unit. It's more low-fi but also easier and less issue-prone. It seems like a slightly janky way to secure a phone, but it actually works quite well. And this headset is really comfortable due to it's plush material: unlike other headsets, it's made mostly of fabric rather than hard materials. So if you have a Pixel, this is a great way to go.
Most sophisticated mobile option: Samsung Gear VR: If you have a Samsung phone like the Galaxy series, the Samsung Gear VR will take you up another level from the basic Cardboard headsets. It's the standard-bearer for mobile VR, and the recent addition of a tactile controller enhances some games in a cool way that can't be achieved with a regular gamepad. The library continues to expand, and has a wide range of new games and apps that are fairly sophisticated for the platform. It also allows you to utilize voice commands, which can be less cumbersome than the head tracking menus in many Cardboard apps and games. But since the platform is already several years old, expect to see an upgraded version from Samsung soon. Until then, there are deals to be had on the Gear VR.
Best for Kids and Mobile Gamers: Nintendo Labo Toy-Con 04 VR Kit: Compatible only with handheld game platform Nintendo Switch, the Nintendo Labo Toy-Con 04 VR Kit is constructed as a project kit to assemble out of materials similar to the original Google Cardboard. In addition to the basic Cardboard-like headset, there are project kits available to construct a VR blaster and several other add-on devices, each of which has its own VR games and experiences associated with it. The kit assembly can be time-consuming and tricky, but also a fun project, and some of the games are quite unique. It's still an entry level platform, and made of cardboard, but it can be a fun intro to VR for young users, and offers a number of unique experiences.
Freestanding VR Headsets: A Dedicated System for an Upgraded Experience on the Go
A definite step up from the mobile VR experience, freestanding VR platforms replace the need for a phone by integrating the computing power into the system itself. These systems are proprietary and generally have their own content designed especially for the system. RIght now, Oculus Go is the primary entry in this category, but you'll soon be seeing a number of other competitors, as well as upgraded offerings from Oculus.
Best Freestanding VR System: Oculus Go: The best known of the freestanding VR systems is Oculus Go. Unlike any mobile or tethered system, Go doesn't need a smartphone or a PC. And it's a much more immersive experience than any mobile platform currently offers. So if you dip your toes into VR via Cardboard, and discover that you want to explore further, Oculus Go is a great next step that offers a much better experience than the mobile options for far less money than a tethered headset and computer will cost. This system incorporates some of the features and learning from the high end Oculus Rift headsets, making this a great way to go until you're sure you want to invest in serious VR hardware. Also, keep an eye out for Oculus Quest, the upgraded freestanding experience set to launch shortly.
Tethered Headsets: For the Power VR User
If you're getting serious about VR, you're probably going to need more computing power than mobile phones can offer. And even the freestanding platforms can't always drive the most sophisticated graphics and gameplay. To get this, most users will want to utilize tethered headsets, attached either to a gaming console or to a powerful PC or Mac computer. In order to use a tethered headset, you'll need a powerful enough computer that it can run the content, and you'll need a certain amount of physical space to move in, but you'll be rewarded with a far more immersive experience than any other type of platform can give you.
Best for value-oriented gamers: Sony Playstation VR: The only VR headset compatible with Playstation 4, Sony Playstation VR is a great entry point for tethered VR experiences. It's not as sophisticated, powerful, or feature-laden as its higher end brethren, but it offers great value, and the ability to play a large collection of VR games via your PS4 console. It also includes a microphone for social experiences. Despite being less powerful than gaming PCs, the PS4/Playstation VR combo yields reliable tracking and an overall smooth gaming experience. For an additional amount, you can add on Playstation Move controllers, and the Aim controller for shooting games, that add interactive functionality.
Best all around VR Workhorse: Oculus Rift: The OG of VR, the Oculus Rift is the headset that started it all. And for many uses, it's still the best option of choice. It's a more powerful and high-end headset than the Playstation VR, but is still easy to set up and operate. We recommend using it in combination with the Oculus Touch controllers for a full interactive VR experience. Instead of just passively watching your VR content, the Touch controllers allow you to incorporate turning, stepping, and realistic hand movement.
Best High End Headset for VR mavens: HTC VIve Pro: If you're ready to drop some cash for the best VR system in the business, the current state of the art is the HTC Vive Pro. It boasts the highest resolution of the mainstream headsets (1440 x 1600 pixels per eye, or 2880 x 1600 pixels combined), along with improved comfort and a host of features that aren't even fully taken advantage of yet in current VR applications, such as a dual/stereoscopic camera system that can track the user's hand gestures over a 20 x 20 foot space. The Vive Pro has also added integrated headphones since the last version, so it can pipe sound directly to the users ears instead of requiring outside headphones. The high resolution definitely helps address the "screen door effect" seen on many VR headsets, giving the Vive Pro the most immersive feel of any VR Headset on the market. Although VR technology is new and constantly changing, the Vive Pro's combination of features, resolution and power makes it the headset and controller system least likely to become outdated in the next year or so.