These Pants Were Made With Science. SCIENCE!
Wrinkle-free pants that move with you throughout the day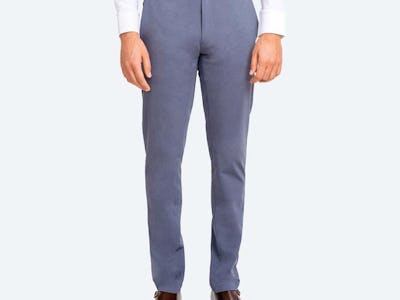 Ministry of Supply website 
If you're looking for a pair of pants that keep you from being sweaty in the warm months, respond to your movements throughout the day, and don't wrinkle, then you're going to want to check out the Men's Kinetic Pant by Ministry of Supply. These must-have slacks are stylish enough for work, but cool enough for evening drinks, which make them the perfect addition to your spring and summer wardrobe.
Available in charcoal heather, navy, black, and indigo heather, these flattering pants are made from Japanese Primeflex® polyester, a warp-knit fabric that has the feel and structure of a woven, and the breathability and stretch of a knit. In other words, they retain their shape and structure longer than any other pair of woven pants you own.
The Kinetic bends and stretches like a knit, which means that squatting down or running for the subway is no problem, and since they have a hydrophilic interior that pulls moisture away from the body and a hydrophobic exterior that evaporates that moisture (that's the science behind the pants), you don't have to worry about the sweat you worked up hustling to work. Not to mention they use your own body heat to release and relax wrinkles, which makes them perfect for traveling, or just, you know, going on a date after work.
The Kinetic comes in a variety of sizes ranging from 28 to 38. Plus, depending on the look you're going for, you can choose slim or standard fit. The Men's Kinetic Pant is available on the Ministry of Supply website. And if that's not enough to convince you to give these super-comfy pants a try, Ministry of Supply will ship within 24 hours of ordering and offers free shipping and returns.