The Ultimate Rugged Bluetooth Speaker for Going Hiking
24 hours of battery life, weatherproof design, high-quality drivers... what more do you need?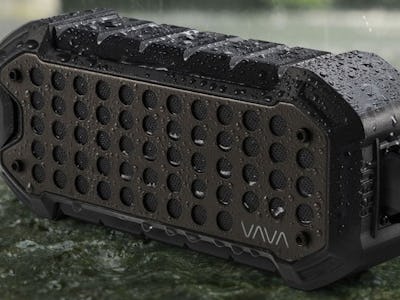 Inverse
Bluetooth speakers seem to get better every day, and this VAVA Voom 23 is a testament to just how far they've come. With a compact, weatherproof design and a 24-hour battery, the Voom 23 is an ideal companion for short jaunts or extended adventures. Plus, right now you can snag it for 28% off when you get over to the Inverse Shop—that's only $24.99 as opposed to the usual $34.99 MSRP.
IPX6 rated and ruggedly crafted, this speaker can easily withstand dust, water, and drops on your outdoor trips. And at only 8" long with an included carabiner, it's incredibly easy to lug around, too. The Voom 23 sports ample power and range via 3.5W drivers, andincludes an aux input in case your Bluetooth falls through.
Take calls and listen to your favorite audio hands-free out on the trail with the VAVA. You'll be hard-press to find a more rugged, feature-rich Bluetooth speaker at this price point. Head over to The Inverse Shop and check out the deal now—only $24.99 after 29% off.