The Single Best Accessory for Your Macbook Pro
Get New Thunderbolt, microSD, SD, USB-A 3.0 and USB-C ports On Your Macbook Pro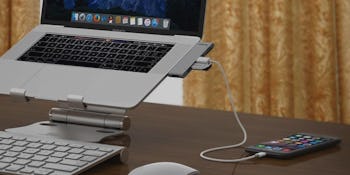 Inverse
The Details:
Adds microSD, SD, Thunderbolt, and 2 each USB-A 3.0 and USB-C ports
Why You Want It: Sometimes it pays to have an immediate connection—-it pays to have the right ports. This gizmo includes Thunderbolt, microSD, SD, USB-A 3.0 and USB-C ports for your MacBook Pro. It's useful to have the added flexibility and convenience, whether you want to output a video file, transfer some photos from last weekend, or charge up your smartphone.
The Deal: Owing to the number of advanced port tech, this add-on is usually $159.99. Right now The Inverse Shop offers a 65% discount—-that's just $54.99 for six-port expansion. Alternatively, the HDMI model will run you $69.99 after 65% down from the $199.99 MSRP.