Glip Is the Ultimate Team Collaboration Platform (and It's Free)
Increase your productivity and streamline team communication with this intuitive tool.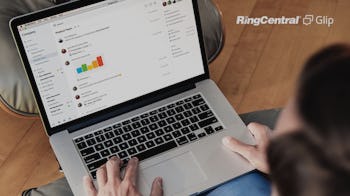 Ring Central
One of the best things to emerge from the hotbed of new technologies is the development of better, increasingly effective team collaboration solutions. And whether you want to cut down on the number of platforms you use to communicate or you're trying to get your startup ready for launch, there's one platform that not only does the work of the multiple solutions in your toolbox, but offers its services for free. Meet Glip: a chat, file sharing, and task management solution that'll help you do more, faster than ever — and best of all, you can stay within the same platform, instead of jumping around from app to app.
Glip provides a single space for productivity and collaboration — because nothing reduces a team's productivity like an overflowing inbox or work scattered everywhere. Instead of wasting time switching from chat platforms to your email to your file storage to find the right information, Glip has all of that available to you in one, unified platform.
Here are a few of Glip's key features:
Whether you prefer text or video, you can collaborate on projects from around the globe on your desktop or mobile device.
Intuitive file sharing and collaboration
Organize your files by project and add comments to documents directly, so any issues that pop up get solved immediately.
Be your own project manager and ensure business objectives are completed on time: create action items and timelines, and hold teams accountable through assignments.
Instantly share what you're seeing during a video meeting, and collaborate with teams and clients in real time.
Use Glip on a web browser, through the desktop client, or by downloading the iOS or Android app.
Sometimes free versions of platforms don't allow you to access the same level of features, but Glip is just the opposite: You get access to free unlimited posts, users, storage, projects, and more.
Feel more connected to your teams and clients and simplify your workflow with Glip as your centralized space to connect over company objectives, projects, and deliverables.. Glip is also an IT-ready solution that's secure and scalable, and completely ready for customization and integrations thanks to robust APIs.
With a simple download, you can increase your overall productivity, improve team performance, and even streamline communication. Also, did we mention it's totally free?