SpaceX Demo-1: SpaceX's Historic Dragon Capsule Successfully Docks With ISS
Next week starts off really, really well for Elon Musk.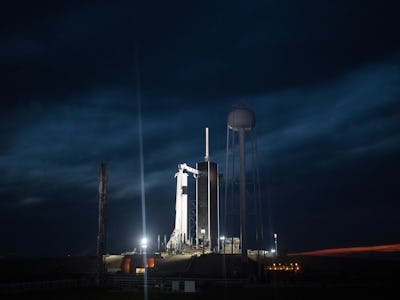 https://www.flickr.com/photos/nasahqphoto/47251946101/in/album-72157676881447277/
Next week starts off really, really well for Elon Musk. And NASA. And anyone eager to ride in a space taxi: Early Sunday morning, at around 5:51 a.m. eastern, SpaceX's Crew Dragon space craft successfully docked to the International Space Station via a "soft capture." It'll spend about five days at the ISS before returning to Earth in preparation for its next major milestone: A crewed mission to take place hopefully by the summer.
If successful, Crew Dragon's crewed mission would be the first time astronauts have been sent to space from U.S. soil since NASA's program was suspended in 2011. It'll also be the first time a US commercial spacecraft has completed the job.
The launch took place during the early hours of Saturday morning, when SpaceX successfully launched Crew Dragon, its first capsule designed to carry humans, from the Kennedy Space Center in Florida. Crew Dragon, which is also packed with roughly 400 pounds of equipment, is ferrying a test dummy named Ripley (yes, like Ripley from Alien) in an effort to simulate the toll of a SpaceX flight on a human. As Crew Dragon lifted off, it became the first commercially-built and operated American spacecraft to take off from American soil.
Despite the 2:49 a.m. Eastern launch time, the crowd outside the space station was full of energy, cheering and clapping and bustling around in the last ten minutes before the launch. Crew Dragon was docked at the legendary Pad 39A, where the Space Shuttle took off on its final mission in 2011.
The actual Crew Dragon capsule was onboard a Falcon 9 rocket, tasked with carrying the SpaceX capsule into initial orbit. Last week, the Falcon 9 rocket survived its highest re-entry heating ever, as SpaceX continues to refine its landing technology.
The Falcon 9's initial booster rocket launched Crew Dragon into orbit — a feat which only took about ten minutes — before detaching and landing in the Atlantic Ocean on a droneship. SpaceX has now successfully recovered more than half of its 69 launched Falcon 9s, a feat which shows that the company will able to continue re-using rockets to save on fuel costs, a key step toward making space travel more affordable.
Since Saturday morning's launch, the second stage of the Falcon 9 has been carrying Crew Dragon into orbit a process which took about 24 hours, gaining speed and chasing the International Space Station, which is in orbit roughly 254 miles above earth.
Despite worries of bad weather, the skies were clear for Saturday morning's liftoff. As Crew Dragon broke away from the launch pad's two arms — a gaseous hydrogen vent arm and a gaseous oxygen vent arm — it looked, for a moment, like the sun was rising over the crowd.
What's Next
Now that it's docked at the ISS, the three astronauts currently onboard — Ann McClain, Oleg Kononenko and David Saint-Jacques — will monitor Crew Dragon's autonomous docking process. Currently, American astronauts are reliant on Russia for transportation to the ISS, though, clearly, that's about to change. Crew Dragon also carried some 400 pounds of equipment to ISS and it's also expected to bring some material from the astronauts' ongoing experiments back down to Earth.
Then, on March 8, Crew Dragon will depart, splashing down in the Atlantic Ocean and ideally landing on the Of Course I Still Love You droneship, proving its ability to land safely and preserving it for future missions.
Should all that go to plan, SpaceX will have passed a major checkpoint toward its ultimate goal of ferrying humans to space by the summer.