Aspiration's Pay What You Will Banking Services Get a Slew of Great Perks
Aspiration also keeps your money from investing in evil things. 
by James Dennin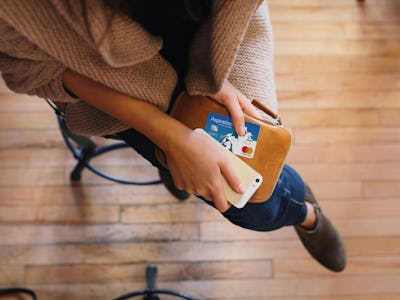 Aspiration
The financial services startup Aspiration, which since 2013 has developed a devoted following by cutting way down fees and ratcheting up its annual percentage yields well above those offered by the big banks, is re-vamping its signature offering. Its new "Spend and Save" account rolls out a slew of new perks, both conventional — like a 2 percent APY on all deposits — and unique offerings that stem from company's B-Corp mission to help consumers invest without supporting companies who may or may not be helping to wreck the planet.
Starting today, in addition to 2 percent APY, Aspiration customers can also begin earning unlimited cash back on debit. As it's been in the past, all of Aspirations products are "pay what you will," with customers having the option to pay nothing if they choose. The announcement marks a year-long uncoupling from Aspiration's former partner, Radius Bank, which provided Aspiration's banking services "under the hood."
"What we did was go independent," CEO Andrei Cherny tells Inverse. "We went through the FINRA process, to become a registered broker dealer, to be able to create our own direct relationship with the customer, to have the freedom and flexibility to deliver the product we wanted without being constrained in any way."
In terms of the most important points, the new Spend and Save Accounts function largely in the same way as the company's award-winning Summit account. In addition to being pay-what-you-will, the company still doesn't charge ATM fees, so you can access your money easily from pretty much anywhere. Here are the other key details:
Unlimited cash back rewards on every dollar spent (.5% cash back, more when shopping at businesses with strong employee and environmental practices.)
Zero fees including free access to every ATM in the world
Deposits that are 100% fossil fuel free
Up to 2.00% APY interest on deposits.
Deposits in the Aspiration Spend & Save Account are FDIC Insured up to $250,000 per depositor by being swept to FDIC Member institutions.
Cherny says he doubts that customers will be able to notice the difference: "most people don't really care and aren't all that impacted by the legal structure of their account" he explains. While it's not technically a checking account, Cherny says their take on what's technically called a cash management account will still offer everything you'd expect from one: Checks, a debit card, mobile app, bill pay, mobile check deposit, and insurance from the Federal Deposit Insurance Corporation.
At 2.00% APY interest on all its deposits, Aspiration's account is among the highest paying "checking" accounts that you can access (Robinhood rolled out something with 3 percent earlier this year, but they neglected to clear basic details with their regulators).
There are a few savings accounts that pay more than Aspiration's, including Marcus by Goldman Sachs, Synchrony, and Ally — but these are savings accounts, that don't come with a debit card, much less a debit card that offers you cash back, and may have some restrictions on when and how often you can make withdrawals. They're simply not designed for everyday transactions, though interest rates across the board have all gotten considerably more generous, due both to pressure from upstarts like Aspiration but also decision-making at the Federal Reserve.
The most interesting facet of Aspiration's new account is probably its unique new incentive to shop at more ethical businesses. Aspiration rolled out its so-called AIM — which stands for Aspiration Impact Management — scores in 2017 to help consumers incorporate metrics like sustainability and equal pay into their buying decisions (AIM assigns companies "scores" using a number of different social responsibility measures.) While that's obviously commendable, its ability to actually influence consumer spending was limited to, as Wired put it at the time, guilting you into shopping at more ethical companies. By attaching a cash-back incentive to his AIM scores, Cherny's made the proposition much more compelling.
"When we first launched AIM, we wanted to just present something to help consumers make decisions," he explains. "But we kept on working on it, so it's now to the point of 'what can we do to make this better?' The $36 billion being spent by US consumers every day is an enormously powerful lever for change."