This Incredible Mattress Is Essential for Your Spring Upgrade
Step into the spring reborn as someone with a good bed.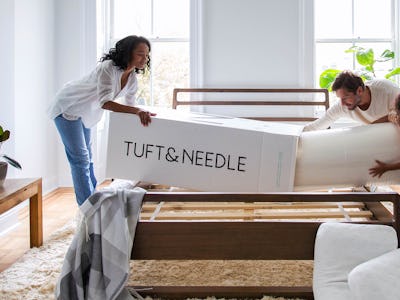 Huckberry
Does your mattress bring you joy? If you're like me, you sleep on a 3-year-old IKEA mattress and the wear is starting to show. My partner and I sleep dead center—not by choice, but by gravity—and become spackled to each other with the help of our own sweat. Sound nauseating? It is and so much of the world is currently sleeping on a bad mattress. But that's not all. The signs and ramifications of sleeping on a bad mattress doesn't stop at being shellaced to your partner or getting up with a few aches and pains.
If your mattress is on the older side, chances are it's already due for an upgrade. It's time to ditch your bed if it sags in the middle, has too much dust, more than just a few cosmetic stains, or when it's disturbing your sleep. You can fix your mattress temporarily with a mattress topper, but you'll likely be back to square one before the end of the year. But if you upgrade, you might find your quality of life readily enhanced and many of your aches and pains thrown to the wayside.
Allow me to introduce you to Tuft & Needle. One of the greatest things to come out of the last few years of innovation has been the bed-in-a-box market. No more do you have to go to a creepy mattress store, arrange delivery and find out how to get it up your inconvenient flight of stairs. Now, your mattress is made to order in the United States and ships in a 19'' x 19'' x 44'' box meaning you don't even necessarily need help to get it upstairs. It arrives directly at your door, and if you don't like it within the first 100-nights, you can return it for free with zero hassle. Morever, if you love it, all Tuft & Needle mattresses come with a 10-year warranty, which is about as long as you should own any mattress—not from IKEA.
Tuft & Needle is also super affordable compared to what you might find at your regular old Sleepies. A Full 10-inch mattress will only run you about $495 and it ships free. For $595, you can get a 10-inch Queen mattress. And for King and California King Sizes, you will get the steal of a lifetime at only $750.
So to try or not to try isn't really the question, it's more when are you finally going to stop abusing your body with your shitty mattress? Will it be today? Or tomorrow?