A Teenager's New App Reduces Awkward Bathroom Conversations and Promotes Health
"In a sense, tapping on the stall next to you has always been there."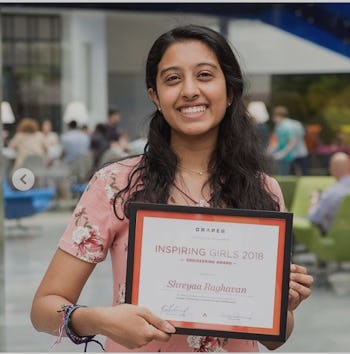 Courtesy of Shreyaa Raghavan
Shreyaa Raghavan knows it can be awkward to knock on the wall of the bathroom stall, wait for a response, and then quietly (but loudly enough so your neighbor can hear you) ask for a feminine hygiene product, in a public restroom. While many bathrooms have them on the counter or offer a vending machine, that's not the case everywhere. There has to be a better way, thought Raghavan, a high school senior in Massachusetts.
Which is why she's using her computer science skills to help keep other people from having to resort to a wad of toilet paper in an emergency.
Raghavan is a student at Sharon High School, and from her location 45 minutes outside of Boston, she's developing an app, tentatively called Pinklink, that uses location-based technology to locate the nearest person — who also uses the app — who has what you need. If you find yourself stuck in the restroom in need of a pad or other item, instead of tapping on the stall wall, you'll be able to use Pinklink to alert a soon-to-be best friend who's nearby. And since that person has already agreed to help someone out just by being on the app, the idea is that it won't be awkward for anyone involved. Raghavan says the app has a loftier goal, too: Destigmatizing menstrual products, and strengthening bonds among women.
"In a sense, tapping on the stall next to you has always been there," she tells Inverse. "But we want to expand the radius so you can tap on the stall of people who are near you."
With Pinklink, a user can alert other nearby members with an anonymous notification.
"If in the area, then they have the option to accept the request, and the app will take the receiver and giver to a separate messaging feature where they can text about where to meet and how to facilitate the exchange," Raghavan explains.
For now, they're starting small, getting the app into a few people's hands and getting feedback on what could work better. Raghavan plans to launch the app in beta mode at a test school in the spring of 2019, before expanding to college campuses and offices, where it could filter a user's matches by Facebook friends or email domains to limit the interaction to people in their workplace or on their college campus.
Raghavan and her team worked on Pinklink as part of Technovation, an annual entrepreneurship competition for girls. It's just the most recent way in which Raghavan is flexing her coding muscles to solve problems.
Prior to this project, as a sophomore competing in Technovation, Raghavan developed a pitch for another location-based technology that would help lobster fishers know when their lobster traps have come detached from one another. Normally when this happens, the traps sink to the bottom of the ocean, where they can damage the ocean floor ecosystem and be lost forever. And even though she didn't keep moving forward with the app after the competition ended, the experience helped her learn that there's a lot more to computer science than just staring at a screen for hours.
It requires conversations with collaborators, creative decision-making, and real-world experience. But for a long time, until she actually dove into an app development project, she didn't understand how multidimensional computer science could be.
""You talk to your peers, you do research, you tackle problems."
"I didn't have any exposure to it, so I thought it was really hard," she recalls. Reality turned out to be a lot more complicated, but in a good way. "Coding is a very dynamic thing. You don't just stare at your laptop screen," Raghavan says. "You talk to your peers, you do research, you tackle problems. It can be a great tool to solve everyday issues that we see around us."
By sharing her experiences with others, she hopes to help other young women come to a similar realization about coding a little earlier in life than she did. And she's doing more than just leading by example; she's leading by teaching workshops to middle-schoolers who want to explore coding.
"It's awesome that I get to be this mentor figure, which I never had, and if I had, I could have done science and math earlier," she says. In her role as a teacher and mentor to younger girls, Raghavan recalls students who tell her they'd never considered a potential career in coding until they'd started learning about it from her.
As a high-school senior, she's not quite ready to start a career herself, but she already has some ideas of what it could be: a role that would combine computer science with a newfound interest in physics that she acquired while working on lasers during a recent MIT research internship.
"NASA would be a dream job," says Raghavan. "Coding a rover would be amazing."
In the meantime, she's working on solving problems here on Earth, helping her app's eventual users become more comfortable talking about menstrual products and supporting one another.
"We're building a community of women helping women," she says. "You don't have to be ashamed that you need this product. You can enlist the help of other women."
We are shining a spotlight on some of the millions of small businesses now challenged by Covid-19. This is part of an ongoing commitment our parent company, Bustle Digital Group, is making to support small businesses throughout the entire month of May. Tell us about your favorite small business on social media using #SmallBusinessSalutes.