10 Great AirPod Alternatives That Won't Cost You a Fortune
Wired headphones are over, these 10 great airpod alternatives will bring you up to date.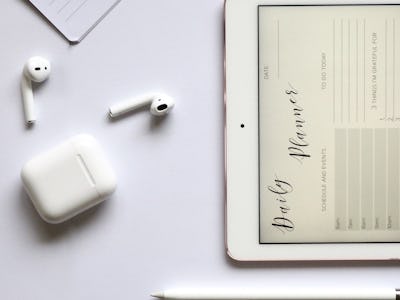 Pixabay
There are few things as embarrassing as standing up from your computer while wearing headphones—taking your computer with you—because you forgot you were wearing them! Similarly awkward and embarassing is when you happen to be walking around wearing headphones and the cord somehow wraps itself around a doorknob. While these are minor inconveniences, we live in a constantly evolving technological domain. By upgrading to wireless headphones, these minor inconveniences become a thing of the past.
Apple may have brought AirPods to the forefront, but they haven't cornered the market. More accurately, they inspired it. Whether you use your headphones to make handsfree calls, listen to music or watch a dozen TEDTalks in a single afternoon, it's likely it's time for an upgrade. If you're like me, your favorite pair of headphones are missing the little silicone earbud cover, they're not as clean as they used to be and your phone doesn't even have a AUX jack anymore. Saving you the trouble of researching the best AirPod alternative, below you'll find the 10 best wireless headphones currently on Amazon.
AXUM Gear True Wireless Earbuds
Product Highlights: A sweat-proof coating will keep your earbuds from sliding out of your ears while you sweat through that intense work out. Want to run the treadmill and don't feel like holding your phone at risk of throwing it across the room? With a bluetooth range of 10 meters, you could have your phone safely tucked into your bag but still playing your favorite music. The battery life promises 3 hours of continuous playtime, but with a portable charging case and a speedy charge time of 60 minutes, you'll never be without these lifesavers for long. And if that's not enough, your order comes complete with an extra silicone eartip, just in case you lose one—again.
Price: $149.99
1Voice Bluetooth 100% Wirefree Earbuds
Product Highlights: They come with a 2 extra earths if you misplace your headphones. Listen to whatever you want from up to 30ft away. Make important calls in a busy room without worry of loud background noise with cVC 6.0 active noise cancellation and do it all with up to 6 hours of uninterrupted playtime.
Price: $32.00
Metallic Air Bud Wireless Earbuds
Product Highlights: With a built-in HD microphone, don't worry about the person on the other end of a call constantly asking you to repeat yourself because you sound supisicously far away. Not using your headphones? With 72 hours of standby battery life, never worry about reaching for your headphones and finding them dead. These guys are also sweatproof with a battery life of 2.5 hours, so take an extra long gym session without fear of losing your musical motivation halfway through. Equipped with a stylish double-duty charging and travel case, suspend your fear of losing them without your big book bag.
Price: $26.00
## TREBLAB N8 Sport Bluetooth Earbuds
Product Highlights: Bump your tunes for up to 7 hours and recharge in only an hour and a half. Historically have trouble getting headphones to stay put in your ears? This pair comes equipped with multipled ear fin sizes. Never worry about having to untangle cords with the perfectly fitted magnetic housing case. Stay in the zone in any zone with cVC 6.0 X-Drop™ ear fins. And unlike those mentioned before, these guys happen to be water resistant.
Price:$26.99
ChiXu Sports Bluetooth Headset
Product Highlights: With a portable charging case, charge your earbuds up to 6 times without ever looking for an outlet. With one press On/Off, Pair, Play, Answer, Hang Up, Reject Call and Skip Song features, don't worry about figuring out what button does what. No silicone covers on this pair means you'll never have to worry about replacing a missing piece. The sleek charging case and convenient draw string pouch keep everything in its rightful place.
Price: $24.99
SOVACAM Mini Bluetooth Earbuds
Product Highlights: These tiny earbuds weigh less than a quarter making them an incredible athletic companion with maximized aerodynamics. Wear them through a conversation you don't want to be a part of and no one will ever know. Designed with the data of 2000 people's ear contours, these earbuds will stay put in your ears even with sudden head movement. These earbuds are the only headphones on this list that claim to be waterpoof so you can take a bath with them—saving your roommate the bathroom echoes of your laptop blaring music.
Price: $38.97
Kissral Bluetooth 5.0 Wireless Earbuds
Product Highlights: These headphones come with the latest in technology, X8 bluetooth which promises higher transmission speed and lower power dissipation making for a smooth stream of whatever you want to listen to for up to 4 hours. Hear the deepest base and the best trebles of all your favorite songs. Pair with ease as these earbuds will auto power on and connect whenever they're removed from their charging case.
Price: $39.99
ENACFIRE 15H Playtime Wireless Headphones
Product Highlights: Listen to music wherever you are with a 33 ft bluetooth range. Charge on the go with the standard portable charging case and rest assured that they'll fit your ears with the eartips in 3 possible sizes. Compact and comfortable, you'll wear them without being overly conspicious. Charge on the go with the 15 hour portable charging case.
Price: $45.99
Cornmi Mini Sport Earpiece Headphones
Product Highlights: Made specifically for sport purposes, hike, run, jog, bike or go to the gym without being slowed down by untangling headphones or figuring out how to pair your headphones again. They auto-connect whenever turned on, are compatible with any bluetooth capable device and fit conveniently in your pocket when you're not using them.
Price: $29.99
ABCShopUSA True Wireless Earbuds
Product Highlights: With Bluetooth 4.2, HD stereo audio will make music sound better than ever. With only one big button, this is an accessible for even the most technology illiterate in your family. A snug and secure fit will minimize concerns of dropping one without realizing it. And like many of the others on this list, this pair comes equipped with a portable charging case, but you'll use it sparingly with a promised playtime of nearly 4 hours.