Google Reveals More Images of Its Futuristic Toronto District
But residents seem more concerned with the parts of the plan they can't see.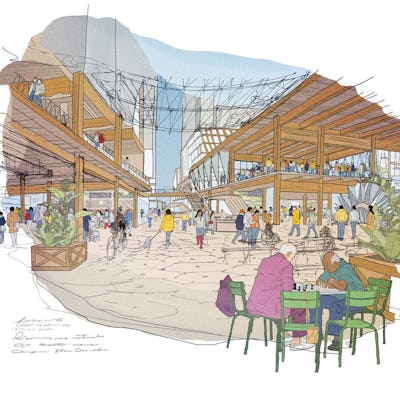 Sidewalk Labs
The citizens of Toronto got a comprehensive look this week at what Google's urban innovation wing, Sidewalk Labs, has in store for their Lake Ontario waterfront and it among the promising renderings of sustainable skyscrapers and passive heating technology, there remained doubts over how a municipality, a community, would work with a corporation-as-city planner.
Sidewalk unveiled a detailed presentation to local residents Tuesday and Wednesday, promising skyscrapers constructed with sustainable buildings materials, including tall-timber scaffolding and organic mycelium insulation; power derived from renewable sources (rooftop and wall-mounted solar); and passive heating and cooling from nearby geothermal sources and lakes.
Some of this has been slowly teased out over the course of the past year — including a few conceptual sketches and the original 200-page proposal, which Sidewalk Labs posted in October of last year — but this week's presentation was the first to delve into the specifics of the company's plan.
Canadian Prime Minister Justin Trudeau has proudly declared that Quayside, part of Toronto's East Bayfront area, will become a "a testbed for new technologies" thanks to the partnership. The trouble is plenty of the people of Toronto don't want to be part of that experiment.
"This is a story about governance, not urban innovation," according to Toronto resident Bianca Wylie — a Senior Fellow at the Centre for International Governance Innovation — speaking to the Washington Post this week. "There is nothing innovative about partnering with a monopoly."
Wylie, whose resume includes plenty of work in IT and local government consulting (including a stint on Toronto's City Hall Task Force) sees Sidewalk Labs' proposal for a sensor-laden, 12-acre "live-work-shop" smart city in the Quayside area of East Bayfront as a near-future dystopia for Canadians' data privacy.
Think of it as public infrastructure built to be like Siri, Alexa, or Google Home: a queasy expansion of all the commercial data-mining that's sort of begrudgingly concomitant with life online, thrust into the publicly owned physical spaces of civic life. If conflict over this plan were a prestige cable drama, you could imagine it as an episode of Black Mirror helmed by David Simon.
While reporters and activists have tried, throughout the nine months since the $50 million Quayside project was first proposed, no one yet knows who will own or have access to all the information culled from Google's 'smart city' experiment.
The details of the contract between Sidewalk Labs and Waterfront Toronto, the tri-governmental agency created to manage the project, are currently not public either. The Toronto Star reports that they included too many "commercially sensitive provisions."
Speaking to reporters Tuesday, ahead of the public roundtables, Sidewalk Labs' head of urban systems, Rit Aggarwala, pretty much flat-out said, "We're really not going to tell anything new on that topic."
But, tellingly, three members of Waterfront Toronto have resigned, with one, local developer Julie Di Lorenzo, telling reporters that she did not feel the project was in "the best interest" local businesses or the country.
"I do not believe it was the intention of the three levels of government to allow a single limited company to become our filter, our gatekeeper and our agent," Di Lorenzo said. "Yet through an unconventional and an opportunistic series of circumstances, I feel we have allowed this to happen."
The tricky and somewhat tragic thing here, is that Sidewalk Lab's ecologically conscious and pedestrian friendly plans for Quayside's built-environment are actually really quite nice.
The tall-timber beams for the project's skyscrapers, sustainably sourced from Canada's verdant forests, were selected not just for ecological reasons, but also to be healthier for construction workers and future occupants. Sidewalk's street design has been guided by a desire not just for transportation efficiency, but to also give commuters pleasing views of Lake Ontario. Even the pavement strategy was carefully considered, employing modular units that could substituted quickly — promising an end to interminable road work delays and a variety of futuristic benefits, like light-up tiles that redefine lanes to suit traffic needs, heated tiles to melt snow and ice, and green space to absorb runoff.
Even some of the squickier things seem kinda nice in context, underground tunnels for delivery robots, pervasive monitoring systems to help deal with pollution and traffic, etc. But, as Wylie argues, that's how they get you.
"The smart city industry is a Trojan horse for technology companies," as she told the Post. "They come in under the guise of environmentalism and improving quality of life, but they're here for money."
Still, it's hard to say no to conceptual art like this.